Tesco has teamed up with Jamie Oliver in a bid to make it easier and more affordable for shoppers to make healthier food choices.
The grocer will roll out a series of initiatives with the celebrity chef, starting this month with a series of 'helpful little swaps' that will offer shoppers healthier alternatives on their regular grocery.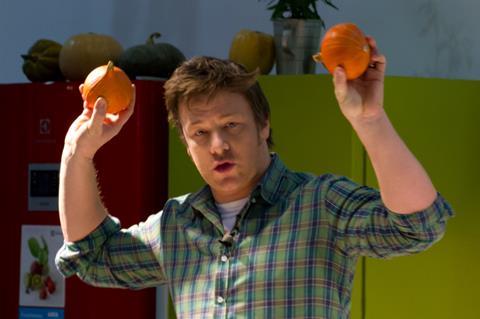 These grocery alternatives, which Oliver will be the face of, will have reduced levels of sugar, fat and salt, and a full basket of them will cost shoppers 12% less than a regular basket.
The grocer will also post a series of healthier recipes online and in-store, which have been created by Oliver exclusively for Tesco and will focus on incorporating British fruit and vegetables.
The retailer's tie up with Oliver comes after the grocer conducted a survey of over 2,000 people that found that 70% of families think supermarkets should be more proactive in helping shoppers make more health-conscious food choices.
Nearly 70% said they would also like more practical advice on healthier grocery alternatives.
Tesco chief customer officer Alessandra Bellini said: "Jamie's passion and skill to inspire a nation to cook, coupled with our experience and reach in providing millions of customers and colleagues with healthy, quality, affordable ingredients will be a great combination to help people take simple steps to leading healthier lives.
"This is a natural step in our ongoing work to make healthier eating a little easier."
Oliver added: "I'm incredibly excited to be collaborating with Britain's biggest and most progressive supermarket.
"This makes this partnership one of the most exciting opportunities to actually get Britain eating and celebrating more of their five fruit and veg a day. I'm going to work really hard to respond to the different seasons and what the customer is asking for, by creating exciting meals, shortcuts and tips that get people really fired up to cook. Tesco's part is to make it easier and more affordable."