Morrisons underlying pre-tax profits jump 11% to £157m at half year stage
Like-for-like sales rise 1.4% across the six month period and 2% during second quarter
But the grocer's total sales dip 0.4% to £8.03bn
Morrisons has registered an 11% jump in half-year pre-tax profit as boss Dave Potts's turnaround efforts continue to gain momentum.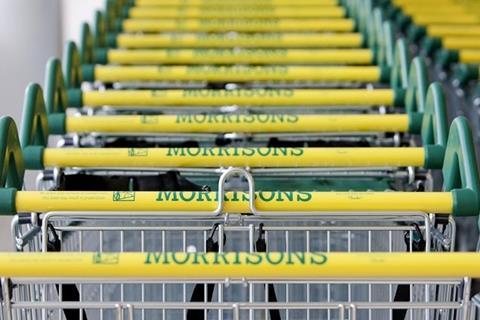 The grocer said underlying profit before tax hit £157m during the six months ending July 31, up from £141m last year - its first rise in interim profits for four years.
The increase was 38% when accounting for last year's restructuring costs, which drove underlying pre-tax profit down to £117m during the comparable period in 2015/16.
Morrisons said like-for-like sales advanced 1.4% across its first half and 2% in its second quarter. That marked the Bradford-based grocer's third consecutive quarter of like-for-like growth.
Like-for-like transactions, excluding its online and petrol forecourt operations, grew 3.1% in its first quarter and 4.3% in the second as it continued to win back shoppers.
But the supermarket giant's total sales during the period inched down 0.4% to £8.03bn.
Strategic success
Morrisons hailed the progress being made with Potts' six strategic priorities, which include bolstering customer service, tailoring store propositions to local tastes and introducing third-party services.
The retailer has unveiled new tie-ups with shoe repair specialist Timpson and etail titan Amazon during the first half of its financial year, while it has also extended its partnership with Ocado to open up its online delivery proposition nationwide.
Potts has also spearheaded a drive to slash costs and Morrisons said savings will exceed the £1bn target by the end of 2016/17.
Its year-end debt target has also been lowered from between £1.4bn and £1.5bn to £1.2bn as Potts and group finance director, Trevor Strain, strengthen the grocer's balance sheet.
No impact from Brexit
Morrisons said it was "too early" to assess how Brexit could impact the UK economy, but the grocer insisted it has seen "no negative impact on customer sentiment or customer behaviour."
However, it recognised that there were "some uncertainties", including the impact on imported food prices if sterling fails to recover.
Potts said: "We are pleased with positive like-for-like sales and 11% underlying profit growth in the first half.
"Our priorities are unchanged. We have made improvements to the shopping trip for customers and we plan to do more.
"This turnaround opportunity is in our own hands and I am confident we will succeed."