There was a lot for retailers to consider at EuroShop, the world's biggest trade fair for stores. John Ryan reports.
Last week saw the triennial shopfitting fest that is Euroshop take place in Dusseldorf.
For those not in the know, this is the world's largest show for shops, and everything needed for them to function.
From chillers to mannequins, checkouts to lighting, retailers make their way en masse to inspect what's new.
"In spite of the onward march of technology, the emphasis was almost 100% on static mannequins, with animatronics nowhere to be seen"
There is a huge amount of choice, and for most visitors it is a matter of selecting a couple of halls to look at and explore properly, rather than attempting to see everything in the full three days allotted to the event.
Here is an overview of what was on offer, and how each might have a practical application for UK stores:
Mannequins and visual merchandising
A world of mannequins was on show in Hall 11 – one of the more startling areas to encounter.
Stands are full of figures, with perhaps the most arresting coming from Dutch mannequin manufacturer Hans Boodt.
There were groups of topless male mannequins wearing grey trousers and gold trainers, while female mannequins sat on seats in gold circles.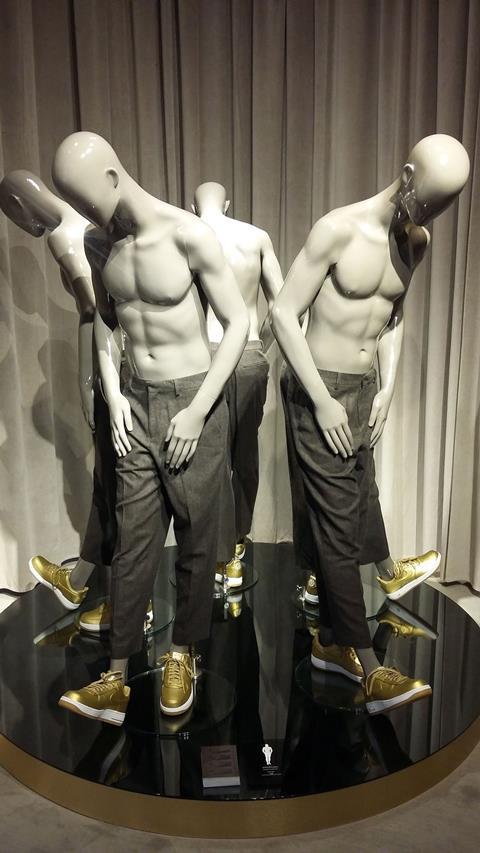 At the entrance, another male group of mannequins looked like a synchronised boy band frozen mid-dance, and for curiosity seekers there were a pair of gold mini-robots, among many other intricacies.
There was also a wide variety of contorted mannequin body shapes around the hall, all faceless.
In spite of the onward march of technology, the emphasis was almost 100% on static mannequins, with animatronics nowhere to be seen.
Store interiors
As ever, there were large stands with shelving, tables and mid-shop display equipment.
Euro-shopfitter Schweitzer set the tone with an emphasis on modularity, where store layouts are made flexible.
The Swiss-Italian outfit incorporated screens into its shelving, used to make shopping a more attractive experience, rather than upscale light boxes.
There were, of course, many displays with multiple iterations of the same product on shelves and tables, which looked very similar to the last Euroshop in 2014.
Crowds gathered round the by-invitation-only Schwitzke stand to marvel at a sand artist who, over the course of the three days, created a Moroccan souk style shopping centre.
The future
The Itab stand was probably the largest, and at 3,000 sq m, it was the equivalent of a mid-sized supermarket. There was a lot to see and it was busy, but the biggest crowd was for a closed unit dubbed 'Airflow', at the far end of the space.
This was the European equivalent of Amazon Go – a system where customers can shop for items and get automatically billed via a smartphone on departure, leaving the shopper free to avoid the checkouts.
There were reliably long queues to watch demonstrations, as there were for supermarket checkouts processing multiple shoppers at the same time.
The Wanzl shopping trolley was also of interest, reporting via radio-frequency identification (RFID) to a retailer's main control centre, feeding information back to a system designed to let the retailer know how many checkouts should be open in order to reduce queues.