Grocery market growth fell to 0.9% in the 12 weeks ending July 20, the lowest level for 10 years, as the price war takes hold of the sector.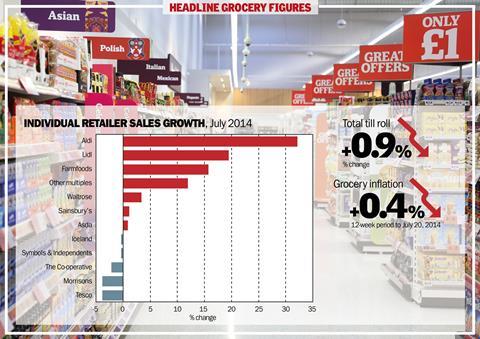 Inflation fell to 0.4%, the lowest level since October 2006 due to the competitive pricing in staples such as vegetables, milk and bread, according to the latest figures from Kantar Worldpanel. This is the tenth successive period that grocery inflation has fallen.
Tesco and Morrisons share continued to fall over the period while Sainsbury's and Asda held steady. Tesco's share dropped from 30.3% last year to 28.9%, while Morrisons share fell from 11.5% to 11% Sales at both Tesco and Morrisons dropped 3.8% year on year in the 12-week period.
Discounters Aldi and Lidl's march continued. Aldi sales soared 32.2% and share jumped from 3.7% to 4.8%, meanwhile Lidl revenue surged 19.5% and share increased from 3.1% to 3.6%.
Waitrose's share edged up 0.1% to 4.9% as sales advanced 3.4% and The Co-op's share dipped 0.2% to 6.3%.
Kantar Worldpanel director Edward Garner said: "Aldi's 32% growth rate has lifted its market share to 4.8%; this is a new record for the retailer and means it has nearly caught up with Waitrose on 4.9%."