Grocery inflation fell to its lowest level since October 2006 over the last quarter as Morrisons and Tesco share continued to fall.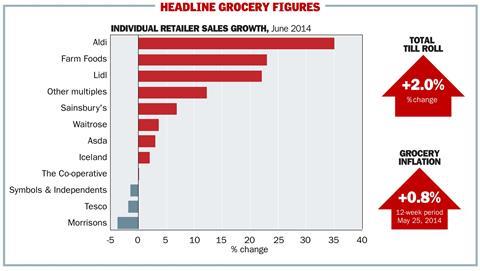 Inflation fell to 0.8% in the 12 weeks to June 22, the lowest level since Kantar started collating the data, as the discounters and the price war among the big grocers led to deflation in categories including vegetable and milk.
Kantar Worldpanel consumer insight consultant Fraser McKevitt said: "The low grocery price inflation this period will be welcome news for household budgets. The outlook is positive as we predict continuing sub 1% levels into the near future, providing some relief for cash-strapped consumers."
Grocery sales bounced back to 2.8% from last month's historic low of 1.7%, according to the data.
Tesco market share dipped from 30.3% last year to 28.9% as sales dipped 1.9% over the quarter. Morrisons share dropped from 11.7% to 10.9% as sales fell 3.8%.
Asda and Sainsbury's share edged up over the quarter while Aldi and Lidl's growth streak continued. Aldi's share jumped from 3.6% last year to 4.7% as sales soared 35.4% and Lidl's share rose 0.5% to 3.6% with revenue surging 22.3%.