Supermarket sales fell for the first time in five months
Sales slowed for both the big grocers and discounters
Grocers are expected to win back market share in the run-up to Christmas
Grocery revenue and volume of goods sold both dropped last month as Black Friday bargain hunting impacted non-food purchases.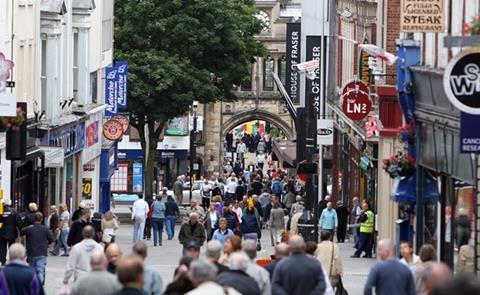 In the four weeks to December 3, the amount of money taken at supermarket tills dipped 0.4% and the volume of goods sold dropped 0.3% – the first time both measures have fallen since July.
According the Nielsen's latest figures, the impact of Black Friday promotions swayed shoppers from buying non-food items from the grocers in November.
The grocers' general merchandise sales dropped 4.3% during the period, which Nielsen's UK head of retailer and business insight Mike Watkins said could be attributed in part to "shoppers being distracted by heavily advertised Black Friday deals by non-food retailers, particularly online.
"This meant supermarket trips were more focused on food and drink," he added.
The price of the average basket also dropped last month as 29% of sales were made on promotional items.
Aldi's sales growth of 8.5% was its lowest in four years, while Lidl's 2.7% growth was six times smaller than its rate during the same period last year.
Although November sales were sluggish, Nielsen predicts that shopper spend will gain momentum in the run-up to Christmas, with supermarket sales hitting £4bn next week and December 22 being the busiest shopping day for the sector.
Kantar data
Rival data from Kantar Worldpanel suggested that consumers were already splashing out and trading up ahead of Christmas, with the grocers' premium ranges performing well.
According to Kantar's data, covering the 12 weeks ending December 4, 2016, spending on premium lines jumped 13% compared to the same period last year.
But overall grocery sales grew at the much slower rate of 0.7%.
Tesco was the only member of the big four to post a jump in sales, with till roll up 1.6% during the period.
Asda was again the worst-performing mainstream grocer, suffering a 4.7% slump in sales. Morrisons sales fell 1.4% and Sainsbury's revenues were down 0.6% across the 12 weeks.
Kantar backed up Nielsen's suggestion that Aldi was the fastest growing retailer, although it said the discounter grew sales at a quicker rate of 10%, taking its market share up 0.6 percentage points to 6.2%.
Frozen food specialist Iceland was the next fastest growing grocer, enjoying an 8.6% spike in sales, while Lidl, the Co-op and Waitrose registered growth of 5.7%, 2% and 1.1% respectively.