Tesco boss Dave Lewis has insisted the changes he has implemented are having a positive effect in his bid to turn around the grocer.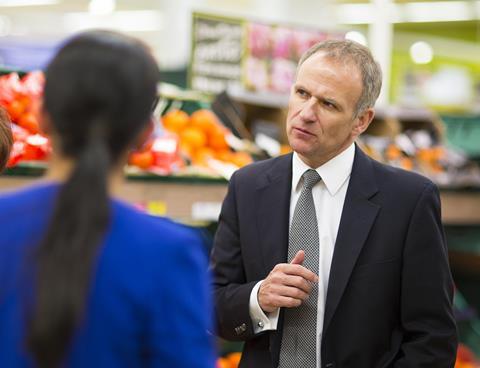 Lewis hits back at analysts who claim his changes have not had "enormous effect"
He says volatility in the market will last "at least another year"
Tesco taking customers from "across the board", Lewis says
Boss says he will be "all ears" at AGM as potential revolt over his pay package looms
Lewis said investments in the areas of service, availability and price had prompted 180,000 new customers to shop at Tesco during its first quarter – a period in which its UK like-for-like sales volumes rose 1.4%.
Despite the improvements, Lewis warned that it would not be "a straight line" to transform the supermarket giant and said "volatility" in the grocery sector would last "for at least another year".
However, the Tesco chief executive was defiant that his strategy had put it on the right track and was having an effect. He hit back following comments from analysts that the grocer's improving performance was largely a result of a plateau in the growth of discounters Aldi and Lidl and the way the big four had significantly scaled back their store opening programmes.
Ahead of Tesco's first-quarter trading update, Nomura analyst David Payne told Retail Week: "I'm not certain there is a huge amount of evidence yet that things Dave Lewis has specifically changed in the business in the last six to nine months have had an enormous effect."
"We are working harder for shoppers than we were before and they are rewarding us with their custom"

Dave Lewis, Tesco
But Lewis said: "What we have tried to do as a team leading the business is keep ourselves focused on ourselves. I'll come back to the fact that 180,000 more customers are coming to us, choosing to buy more of what they need from Tesco, and feeding back to us that they appreciate the change in experience that they have noticed.
"We are working harder for them than we were before and they are rewarding us with their custom. That's what we will stay focused on.
"To what extent that is helped or hindered by what it is our competitors do, I'll leave that for others to comment on. But we feel that we can see where it is we are making interventions in category, in service, in price and getting a return.
"We are pretty clear about what our actions are doing to improve the quality of what Tesco is offering."
Lewis said those actions had seen Tesco surge ahead of its grocery rivals by 3% in terms of sales volumes of fresh fruit and vegetables. He added that the average Tesco basket was now 4% cheaper than it was during the same period last year.
Gaining shoppers
Lewis maintained that was helping Tesco win shoppers back from its rivals. He said: "We are gaining shoppers across the board.
"It's not about getting any particular competitor on the run. I think it's fair to say that over the last few years, we've probably not been on the top of our game and we've not given our best to the market.
"What we are trying to do is improve the offer and let customers decide where they want to shop.
"As people come and they see the offer, in terms of service, availability and increasingly on price, they notice that what we are doing is a significant improvement on what we were doing before.
"There's a long way to go, there are many more things we would like to do, but it's an encouraging first step in the right direction."
AGM
Lewis will face shareholders at the grocer's annual general meeting later this morning, after investor group Pensions and Investment Research Consultants (Pirc) urged shareholders to vote against key measures including executive remuneration.
"As with every engagement with shareholders so far, it's about listening and trying to understand their perspectives"

Dave Lewis, Tesco
Pirc has asked investors to oppose Lewis's pay deal, which would see him receive a bonus that is five times his salary if all next year's targets are met.
In response to the potential revolt, Lewis said: "I'm looking forward to the first AGM. As with every engagement with shareholders so far, it's about listening and trying to understand their perspectives.
"I'll be all ears and we'll listen to what everybody's got to say in the AGM today."