Asda boss Andy Clarke says the grocer could invest £170m in its superstore estate if new layouts at trial stores prove successful.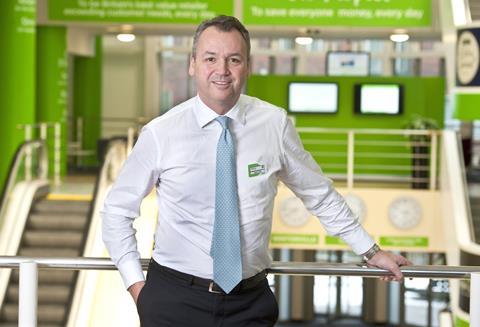 The supermarket giant has splashed out just over £1m to revamp its Grantham superstore and a similar amount in Coventry.
Clarke said the two new-look superstores will move Asda's proposition to "where the customer is going," cutting back on space dedicated to general merchandise and electronics, which are now more popular online, while increasing the emphasis on fresh food, health and wellbeing.
The latter category now benefits from an additional 8% of floor space in the Grantham superstore. That includes 35% more space in fruit and vegetable aisles and a doubling in the size of its fresh pizza counter.
Space dedicated to gluten-free products has also increased three-fold to include gluten-free bread baked in store - a first for UK grocery.
Sales at the Grantham superstore are already up 0.8% week-on-week since its eight-week refurbishment finished in November. Eight other Asda superstores across the country are set for a similar makeover. Hatfield will be first on that list in May.
Work in progress
Speaking at his new-look hometown superstore, Clarke said: "It's still very much a work in progress. It's not the final solution, but we believe we've got more right than wrong.
"Within that we are following key trends with the extension of fresh, both in terms of space and range, the upfront positioning of George Home and clarity of the George fashion brand across clothing and homestead, and the obvious growth of health and wellbeing. The creation of health and wellbeing zones and the growth in range is something we have confidence in.
"This store, we believe, represents a scalable, rollable solution, to which point we are confident enough to go to the next eight stores, the first of which will be Hatfield."
Clarke added that Asda would seek to extend the rollout "into 2016 and beyond," confirming that a total of £170m could be invested into the programme "if that's the route we take."
He said: "We are really pleased that this is a pretty low-cost solution to our superstore estate. In quantum terms, in comparison with some of our competitors, it is a low-cost, scaleable solution to move our proposition to where the customer is going."
Potential for partnerships
Another trial is also under way in Glasgow, where a dividing wall has been put in place, paving the way for deals with retailers like the one Sainsbury's and Argos penned last month. That will see Argos digital shops open up in 10 Sainsbury's superstores.
In addition to Clarke's superstore blueprint, 45 of Asda's 210 supermarkets, which are under 25,000 sq ft in size, are also earmarked for refits this year.
The developments to the Asda estate form part of Clarke's grand plan to eat into the market share currently owned by Tesco, Sainsbury's and Morrisons, while "mitigating the losses" to rapidly growing discounters Aldi and Lidl.
But when questioned about whether he envisaged expanding Asda's portfolio as part of that strategy, Clarke said it "would be inappropriate to comment" on whether the grocer would be interested in buying any of the 43 stores being closed by Tesco.
Clarke did however rule out a move for any stores owned by BHS, the department store chain that has been put up for sale by Sir Philip Green.