Asda and Timpson have launched a six-month trial of a service that allows customers to combine their online food shop with their dry-cleaning.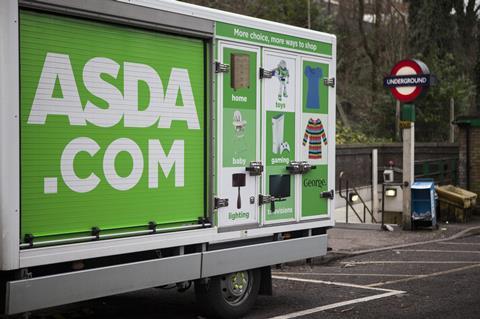 The service is available to Asda's online and click-and-collect customers.
The partnership is the next step in the Asda's goal to become the UK's most convenient grocer, following its launch of click-and-collect hubs in tube stations in 2013. It follows on from the grocer's ongoing partnership with Timpson, which already has a presence in a number of Asda's stores.
Asda's chief operations officer Mark Ibbotson said: "We're leaders in innovation when it comes to creating new ways to shop that fit seamlessly into people's lives – our customers already link their dry-cleaning trips with the weekly shop so it made sense to extend the service to online shoppers."
The service launched in London on January 12 and follows research carried out by Asda that found 60% of shoppers already link their weekly in-store shop with their dry-cleaning run.
The service will allow customers to select the items they want dry-cleaning with their online shop. These items will then be collected by Asda staff when the customer's online shop is delivered and returned clean with their next online order. Alternatively, customers can drop off and collect their dry-cleaning from their nearest click-and-collect hub.
The minimum order to use the service is £25 and can be a mix of groceries and dry-cleaning or either one exclusively, ordered through Asda's website or app. Their dry-cleaning service prices start from £7 for a dress shirt and go up to £16 for a dinner suit.