Amazon sent shockwaves across the grocery and food delivery sector today when it was revealed to have invested in takeaway delivery firm Deliveroo. Here, we look at the implications.
The investment – Amazon was the largest investor in Deliveroo's latest £450m fundraising – pairs together two of the biggest perceived threats in the grocery sector.
In Sainsbury's results earlier this month, the supermarket giant highlighted that the growth of companies such as Deliveroo, Just Eat and Uber Eats, which act as intermediaries between restaurants and customers, was impacting grocery spending.
"Amazon isn't a retailer and Deliveroo isn't a food company. They're both tech companies that disrupt the status quo"

Natalie Berg, NBK Retail
"Amazon isn't a retailer and Deliveroo isn't a food company. They're both tech companies that disrupt the status quo and enhance customer experience," says Natalie Berg, retail analyst at NBK Retail.
But how will the tech giants combine to shake up the market?
Amazon takes on foodservice
Amazon's investment in Deliveroo could help the etailer open up the fast-growing world of food delivery. Time-poor consumers are increasingly ordering, rather than making, their evening meals – and Deliveroo has been a big beneficiary of that trend.
Sales at the delivery firm more than doubled to £277m in 2017, its last reported year. The UK foodservice delivery market as a whole was worth £8.1bn in 2018, up 13.4% year on year, according to insight agency MCA.
Shore Capital analyst Greg Lawless says: "It has always felt a question of when, not if, Amazon would enter the foodservice arena.
"The Amazon strategic stake in Deliveroo suggests that the technology giant has its eyes on adjacent consumer markets, as it attempts to capture an even greater share of consumer spending."
In fact, Amazon has had its sights on this market for some time. It launched Amazon Restaurants, a London-based delivery service in 2016, but scrapped it late last year. It is thought the fierce competition from Deliveroo was a factor in that decision.
Deliveroo has been expanding rapidly and now operates in more than 100 towns and cities across the UK. Its 15,000 riders deliver meals from more than 8,000 restaurants.
TCC Global global insights director Bryan Roberts says if Amazon wants to crack this market, partnering with Deliveroo makes sense, since it has the expertise and supply chain in place.
The trend towards eating takeaways, rather than buying ingredients to cook at home, has emerged as a growing threat to grocery retail – prompting some players to dip their toes into the 'next meal' delivery market.
The Co-op is piloting a tie-up with Deliveroo in Central Manchester and parts of London, which allows customers to buy items such as pizza, bread, milk, snacks, beers, spirits and wine for home delivery.
Meanwhile, Morrisons boss David Potts hinted last week that it could team up with a delivery partner such as Deliveroo, Just Eat or Uber Eats to offer meals for immediate consumption.
Online grocery
Outside of the takeaway delivery arena, Amazon's new relationship with Deliveroo could also help it improve last-mile delivery across all categories. The US titan may be considered a fulfilment expert through its Prime capabilities, but Deliveroo's success in speedy hot food delivery, an area seemingly even Amazon couldn't crack, will be beneficial across its entire product range.
"Deliveroo delivers a hot meal to your home in 30 minutes or less. Delivering toothpaste or nappies will be a breeze in comparison," Berg suggests.
Perhaps the biggest implication could be for Amazon's grocery business Amazon Fresh. "Prime Now is how Amazon can disrupt grocery," says Berg. "They're going after the time-starved shopper, so offering takeaways and prepared foods is the natural extension. It would enhance Amazon's food credentials and differentiate them from rivals."
"Unlike the US, Amazon doesn't have the Whole Foods network here, that's what it's missing. I'm sure that will come soon"

Nick Everitt, Edge by Ascential
Speedy grocery delivery has been a huge area of focus for the big-four supermarkets: Sainsbury's is trialling Chop Chop, a 60-minute grocery delivery service by bike that costs shoppers £4.99; Morrisons at Amazon allows Prime subscribers to buy the grocer's products for one-hour delivery; while Tesco has just called time on its one-hour delivery trial, Tesco Now.
Outside the big four, Waitrose offers its Rapid delivery for £5 per order, while Ocado launched its one-hour Zoom delivery service earlier this year at £1.99 per order.
Berg goes as far as to say that "time wars are the new price wars" in grocery.
However, Roberts is sceptical over whether consumers would be willing to pay the charges currently attached to speedy delivery. He says: "It's a horribly expensive way of getting your groceries.
"You're happy to pay for Deliveroo as it saves you cooking. I'm not sure how much more convenient grocery delivery is."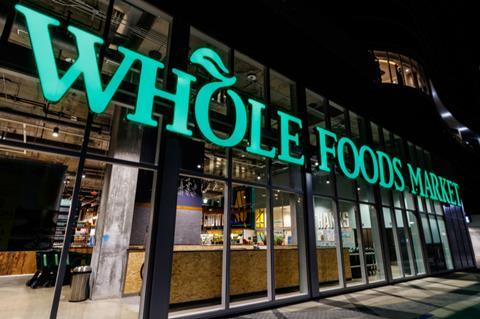 Roberts believes the premium needs to come down for such services to have mass appeal. However, Amazon could offer such speedy delivery as part of its existing Prime membership scheme.
IGD head of online retail insights Simon Mayhew says it expects to see more "innovative and creative ways to get goods to shoppers".
He continues: "Ocado recently announced it was investing in a robot chef start-up to develop its rapid delivery Zoom business. In terms of Amazon's investment in Deliveroo, we might see Amazon Prime Now 'dark stores' in the same warehouse as Deliveroo's dark kitchens, offering a convenience solution for shoppers to order their dinner for tonight whilst stocking up their cupboards at the same time."
Could stores be next?
Nick Everitt, director of advisory for EMEA at retail consultancy Edge by Amazon, says a partnership with Deliveroo could help Amazon become a leader in online grocery.
"Not in every location, but in highly dense populations this could be the way forward," he says.
However, Everitt believes Amazon needs a large store network to service this speedy delivery model – and reckons the online titan will acquire a major UK supermarket chain in the near future.
He says: "A store presence is the obvious complement to this solution. Unlike the US, Amazon doesn't have the Whole Foods network here, that's what it's missing – bricks-and-mortar stores. I'm sure that will come soon.
"For the time being, it will be restaurants and fast food and see what it can learn, but it's so likely to make an acquisition [of a supermarket] in the future."
The Deliveroo investment could be just the beginning of Amazon's grand plan to grab a slice of the online grocery pie.