It's just four months since the 5p plastic bag charge was introduced in England. Retail Week looks at what impact the levy has had.
When the 5p plastic bag charge came into force in October, headlines such as 'Chaos at the checkout' were ubiquitous. Four months later and we've not witnessed the shopper protests predicted by some, however the implementation of the plastic bag levy has been far from smooth sailing.
Good news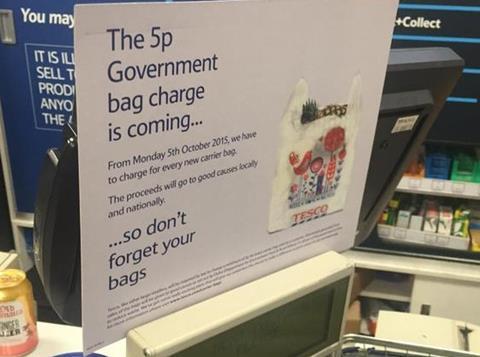 The good news is that the levy has dramatically reduced single-use plastic bag usage. Tesco revealed in December that the number of bags had been slashed by a whopping 78% since the charge was introduced.
Morrisons said plastic bag consumption was down 80% across its stores.
These figures fall in line with official figures from Wales and Scotland, where single bag usage has plummeted 80% since the levy came into force.
The fall in England, the last country in the UK to adopt the compulsory charge, is dramatic given the consistent rise in plastic bag usage from supermarkets over the past five year. Statistics from waste reduction body Wrap showed that single-use bags had grown from 7.2 billion in 2009 to 8.5 billion in 2014.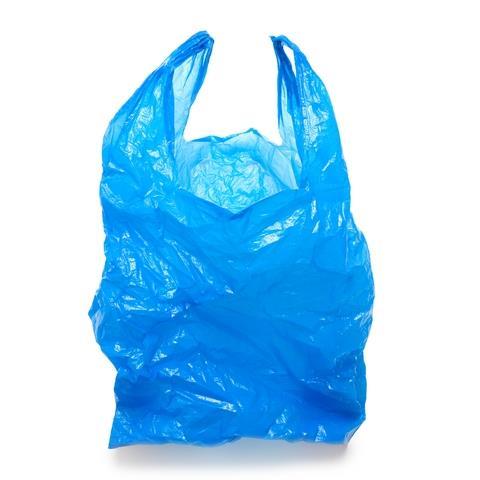 The reduction is not only helping to cut landfill waste, it is expected to save £60m in litter clean-up costs as well as generating £730m for good causes over the next decade. Retailers are required to give the vast majortity of the money raised from the plastic bag levy to charity.
At M&S, which introduced a plastic bag charge in 2007, over £10m has been raised for a range of charities to date.
Morrisons has raised £785,000 since October and will split the funds between the Morrisons Foundation and Sue Ryder.
Is customer experience suffering?
Despite the positive impact on bag usage, customer experience may have suffered. Some view the charge as a penalty for forgetting the rafts of bags they have stored under the kitchen sink. It is becoming a familiar sight to see shoppers struggle with armfuls of groceries rather than pay 5p.
Shoplifting surge
The charge has led to more shoppers leaving stores carrying their purchases in their arms. This makes it more difficult for security staff to spot shoplifters and has reportedly led to a surge in retail theft.
A source at the Crown Prosecution Service told the Daily Star that shoplifting cases have risen 20% in England since the charge was introduced.
One retailer told Retail Week that although it had not witnessed a rise in shoplifting, it agreed that the changes made it easier for people to put unpaid items into their own bags.
Meanwhile, there has also been a rise in trolley and shopping basket theft in supermarkets and Asda and Tesco have resorted to adding a security tag to some baskets.
Paul Thomas, senior consultant at Retail Remedy, says customers simply don't understand enough about the charge, particularly why it has been introduced and where the proceeds go.
He says most shoppers are unaware that charitable causes will benefit.
"It's important that till operators can all give a brief, succinct and positive message to customers around the charge"

Paul Thomas, Retail Remedy
Retailers need to do more to build awareness, says Thomas, and front-end staff play a crucial role in engaging customers and "spinning a good story".
"When these policy changes come in, it's important that all employees understand it. That's a big job.
"There can be over 120 till operators in one store. It's important that they can all give a brief, succinct and positive message to customers around the charge," he says.
A raft of exemptions
Confusion still reigns over the plastic bag charge. Thomas says the multiple exemptions to the charge have "muddied the waters" in consumers' eyes.
The charge only affects retailers with 250 or more employees, and unlike schemes in other parts of the UK, paper bags are exempt from a charge.
This can create a puzzling picture for shoppers. For example, Primark's paper bags are exempt from a regulatory charge in England and its plastic bags are also exempt because of their size and weight; bags thicker than 0.07mm are not charged.
However, in Wales, Scotland and Northern Ireland, Primark charges for both plastic and paper bags, in line with the regulation in each country.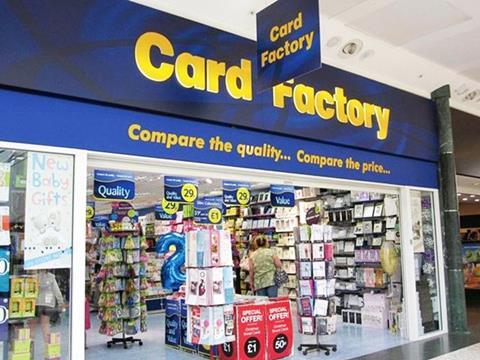 Meanwhile, free bags are still provided for consumers buying uncooked meat, poultry or fish, prescription medicine, certain fresh produce such as flowers or potatoes, and unwrapped ready-to-eat food such as chips.
Some retailers have taken advantage of the many exemptions. For example, Card Factory has introduced a bag without handles, which are expemt from the charge.
A Card Factory spokesman said: "We introduced these in response to feedback from our customers, at the time the new charges were introduced, who felt such bags were important in protecting their purchase of single or a small number of greeting cards."
Calls for simplification
There have been calls for the Government to simplify the levy, so it applies to all bags in England, like it does elsewhere in the UK, to help ease the confusion.
Retailers could also do their bit to build customer awareness and engagement.
However, the introduction of the plastic bag charge has not resulted in the chaos predicted by some headline writers, and while certain things are yet to be ironed out, there is no doubting the positive impact it has had on the environment - something both retailers and their customers can agree with.