As Star Wars' latest instalment hits screens across the UK, we take a look at what retailers are doing to cash in on the sci-fi saga.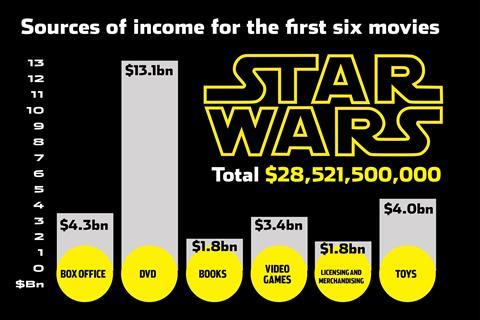 Retail sales of Star Wars merchandise and products signficantly outweighed the franchise's box office sales in the US, according to figures from the London School of Marketing (according to data above).
The cinematic phenomenon's latest instalment was released this week and retailers have thrown themselves into the Star Wars spirit full force.
Asda kicked off its Star Wars campaign in September with a midnight opening of 50 stores selling themed merchandise.
Since then, the supermarket has done prize giveaways and sold Star Wars-branded food in its top 10 stores as well as releasing an advert promoting its Star Wars merchandise earlier this month.
Tesco held events across its store estate on December 12 to 13 and, in its Wembley store, children were invited to dress as their favourite Star Wars characters.
Here's a look at how grocers and shoppers were getting involved in the Star Wars fun on social media:
In an Asda store in a galaxy not so far, far away... https://t.co/iJo39xoGWn #becauseitschristmas #starwars

— Asda (@asda) December 11, 2015
Meanwhile, in a Tesco far, far away #StarWarsTheForceAwakens pic.twitter.com/ETvvplL081

— Tesco News (@TescoMedia) December 17, 2015
Quite nice work outside Asda today. Twitter handle gone awry mind.... pic.twitter.com/MnopPsnkQP

— Steve Dresser (@dresserman) December 17, 2015
Ham so low… Can you rename a Star Wars character using food? #StarWarsTheForceAwakens pic.twitter.com/NwQpn2QQg0

— Aldi Stores UK (@AldiUK) December 17, 2015
#StarWarsTheForceAwakens or... #StarWarsTheFishAwakens? pic.twitter.com/ba26UgFWGj

— Morrisons (@Morrisons) December 17, 2015
Going to see #TheForceAwakens this weekend? We've got your costume sorted. #LidlSurprises pic.twitter.com/4I1KEapFxy

— Lidl UK (@LidlUK) December 16, 2015