M&S' new market hall store concept looks good, but is it economically viable on a large scale? John Ryan explores whether this is the future of grocery retail.
Roll up, roll up. Get a load of these juicy toms…
Market halls are making a comeback and are being adopted by mainstream retailers.
M&S has transformed its fashion and food store in its Clapham Junction branch to a (very large) Simply Food-cum-market-style emporium.
The 15,000 sq ft store, underpinned by efficient checkout tech, reminds those who might be sceptical that M&S is a retailer still capable of surprise. It is also a signal that the management at M&S are aware of what's been happening elsewhere as far as food retailing is concerned.
Beyond the UK, supermarkets that look like markets are everywhere, and if their spread is anything to go by, they are more than a visual merchandising flash in the pan – they must also be profitable.
But what makes them attractive and how can retailers make the tills ring out louder using a format that involves, effectively, slowing shoppers down when they visit a store, even if they do stay longer and are happier while doing so?
Fresh at the forefront
At Clapham Junction, fresh food is definitely the star of the show. Hero illumination lights the stock rather than the store and there are crowd-pleasers such as the herbarium, a colourfully lit glass cabinet where fresh herbs are grown, and a fresh pizza counter.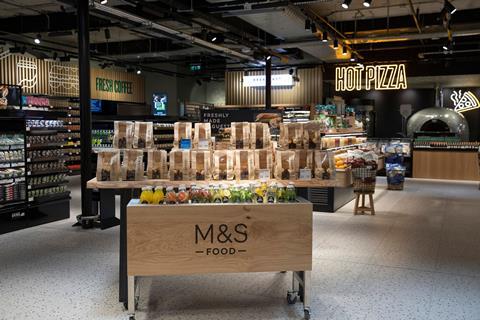 But there are also a lot of things that might not immediately be spotted but which are distinctly non-standard for a UK food retailer.
Stuart Machin, managing director of food at Marks & Spencer, points to the unusual layout: "Ready meals are actually at the back of the store, wine is at the front, next to bakery and leading on to ambient."
It is almost an unwritten rule that ready meals, for which M&S holds a dominant position in the market, should be waiting to greet shoppers as they walk through the doors. Instead, the market layout demands that 'fresh' takes prime position, alongside bakery, with wine occupying a 'grab and go position', rather than lingering at the back of the shop.
This means a lot of low mid-shop display units with items such as potatoes and corn-on-the-cob given their own fixtures, just like they would in an outdoor market.
And to beef up the 'market' ambience, much of the interior of this building has been stripped back to the original brick, with black metal and wood being deployed to foster a sense of the outdoors indoors.
Are UK retailers laggards?
In this, it is similar to what Dutch retailer Jumbo has been doing for a while with its eponymous Jumbo Foodmarkts across the Netherlands. Here, low fresh product displays are the norm, as are large numbers of counters for those wishing to buy prepared food or to shop at manned stations.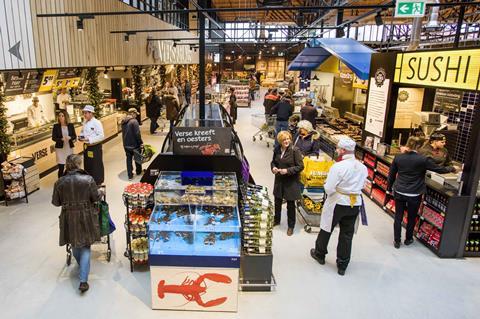 Further afield, Whole Foods, which has been a proponent of market food retailing almost since its foundation in 1984, has recently gone down the market-in-a-hurry format with the opening earlier this year of its Whole Foods Market Daily Shop, in New York's Chelsea.
This is a market format for the grab-and-go crowd with fresh produce to the fore, alongside a coffee and croissant counter. It is, in effect, a convenience market.
The same is true of the Coles Local store from the eponymous Aussie food retailer. Located in Melbourne and opened late last year, this is a convenience store that is just shy of 14,000 sq ft that puts a particular emphasis on 'fresh', as well as a push towards sustainability.
This is a 'food for today' market-style store that comes complete with a café and barista and which is about half the size of a normal Coles.
If market formats are commonplace in other countries, why have UK retailers been so relatively slow on the uptake?
Bryan Roberts, global insights director at TCC Global, puts things bluntly: "10 to 15 years ago, the UK was one of the first places that you used to go to for fresh. Now it's one of the last.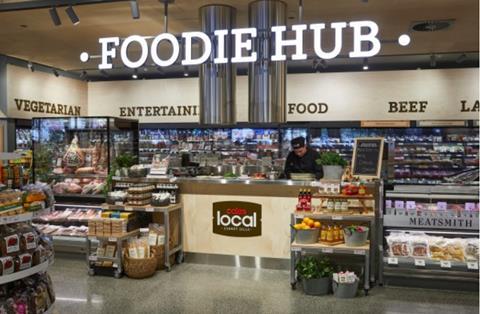 "It's been a race to the middle with the arrival of Lidl and Aldi, everybody's been trying to be more efficient [to combat them]. 'Discount Lite' is not the way to go. The best strategy is probably to swim upstream."
Or put another way, UK retailers should focus on better presentation and store environments that win loyalty, rather than hyper-efficient boxes, of whatever size.
This is a sentiment Machin agrees with. He believes it is a way to differentiate from Aldi and Lidl, which he says are "hyper-efficient but they don't do more than this".
Do markets make money?
But can market halls be as profitable? Machin says: "When I arrived at the business 16 months ago we started looking at what shoppers expect of M&S. Shoppers love the food, but they don't love the environment."
The outcome of this soul-searching was a market-style trial in the Hempstead Valley shopping centre in Kent, which launched in July.
Most of the elements that can be seen in Clapham are present in the Medway mall, but the high-quality fixtures and fit-out in both stores would lead some to think that it couldn't possibly be economic on a wider scale. "I wouldn't do it if it weren't scalable," Machin counters.
"Do we continue opening small stores or do we do something different?"

Stuart Machin, Marks & Spencer
He adds that the "boundaries could have been pushed a little further, but I wouldn't want to push too far as it would be too expensive".
"What I know is that we had a choice. Do we continue opening small stores or do we do something different?" he asks.
Machin says markets are about differentiating what is on view from traditional supermarket retailing, but that this does not preclude the hard-won efficiencies which have been the bedrock of the sector in the UK.
"I always get a little bit sceptical about what I call M25 syndrome," says Roberts.
Nevertheless, he says that what has been done in Clapham is about "bringing a sense of joy to mind".
Even the discounters do markets
It is worth noting that in spite of Machin's views about Aldi and Lidl in the UK, further afield even the discounters are looking at the market format as a productive means of enhancing the bottom line.
Aldi's market-style store in Beijing, which opened this year, is a case in point. There is nothing bargain basement about what has been done here, with low counters and QR codes on products, enabling shoppers to get product information and to pay via their phones, while walking around an interior that ostensibly harks back to a slower, more experiential time.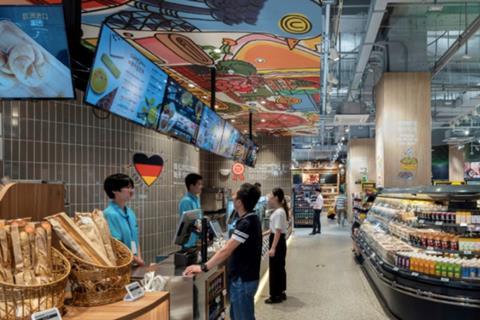 The big question, however, has to be what's next at M&S and more broadly for the sector as a whole in the UK?
Machin says that having completed Hempstead Valley and Clapham Junction, the pause button will be hit for a few months and a few learnings will be garnered.
If he is right about the scalability of this format, then this is a new look for food retailing in the UK that many others will be pondering and probably seeking to emulate.
Market halls show that there may be a lot more to supermarket shopping than helping consumers 'get in, get it and get out'. Perish the thought, they might even want to hang around.