Staples stores in the UK will be shuttered following the acquisition of the UK arm by HMV-owner Hilco for a "nominal" sum.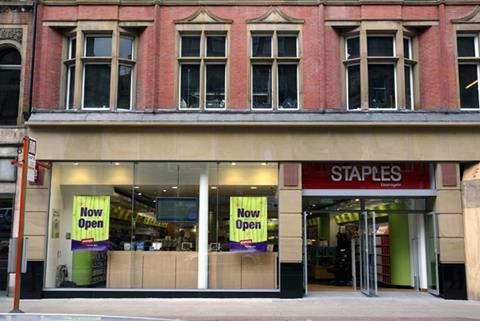 The stationery specialist has agreed to sell its UK retail business and operations to the restructuring firm, in order to focus instead on its North American and mid-market divisions.
Hilco said today it will "phase out" the Staples brand in the UK – which employs 1,100 people across 106 stores – over the coming months.
Staples chief executive Shira Goodman said: "Agreeing to sell our UK retail business to Hilco aligns with our go-forward strategy of focusing on our North American and mid-market business, and is a meaningful step in that process."
Earlier this year, Staples said it was exploring "strategic alternatives" for its European operations after it was forced to shelve a merger with Office Depot on competition grounds.
Goodman added: "We continue to make good progress in evaluating strategic alternatives for the remainder of Staples Europe, which will let us streamline our operations, sharpen our focus and more aggressively pursue our mid-market growth strategy."
Hilco Capital chief executive Paul McGowan said: "While retail in the UK has been challenged recently, a team led by retail veteran Alan Gaynor will work alongside the existing management team to build a plan for success for the business."