Poundland has unveiled plans to ramp up its multi-price proposition as it accelerates its Pep & Co shop-in-shop opening programme and eyes new categories.
The discount retailer's trading director Barry Williams said the business would continue to sell "the vast majority" of its products for £1 but would introduce 50p, £2 and £5 fixed price points across its estate.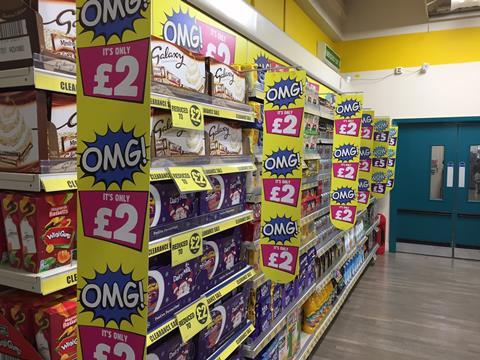 The value chain will roll out areas in-store dedicated to products being sold at those higher price points, in a move that executive chairman Andy Bond said would enable the business "to open into new markets" that it previously couldn't expand into due to pricing constraints.
Poundland has also doubled its initial target of Pep & Co shop-in-shop openings to 100 by the end of the year.
'Ahead of expectations'
Pep & Co chief executive Adrian Mountford said the first implants inside Poundland stores were "trading well ahead of expectations."
The first tranche of 50 shop-in-shops will be opened by the end of May, with another 50 to follow by September.
An edited range of the fashion retailer's products, which are priced between £1 and £15, will also be available across 577 of Poundland's stores by the end of next month.
Mountford said that the value fashion retailer has "paused" its standalone store expansion for "the next year at least" as it focuses on bolstering its presence inside Poundland stores.
He said that opening concessions and selling through the discount retailer's existing outlets was a more appealing option for the fledgling business, as it allowed it to avoid incurring additional business rate and rental costs.
Job creation
Pep & Co, which launched in 2015, currently operates a 60-strong standalone store estate.
As a result of the store-in-store rollout, 1,250 new jobs will be created across Poundland and Pep & Co, both of which are owned by South African retail giant Steinhoff.
However, the retail conglomerate has decided to scrap the value fascia Guess How Much!, which Bond launched in June last year.
"GHM! as a brand has now disappeared and those stores are now Poundland stores," Bond said.
"There is no idea of differentiating stores with different brands, all stores will be Poundland stores."