Retailers suffered a disappointing Christmas as December like-for-likes increased by just 0.1%, according to the BRC-KPMG Retail Sales Monitor.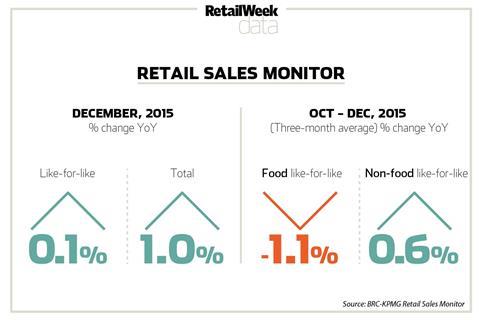 Fashion retailers were hit in particular last month as warm weather forced many to discount heavily. However, the overall 0.1% increase is an improvement on December 2014, when like-for-likes across the retail sector fell 0.4%.
Total sales increased 1% last month, matching the increase in December 2014.
In the three months to December, total sales edged up 0.9% – the lowest performance of 2015. The only index to show an increase over the three months came from non-food online sales, which were up 15.1%.
BRC chief executive Helen Dickinson said: "The year drew to a disappointing close for retailers, with December seeing just 1% sales growth.
"Online performed strongly as consumers embraced the convenience and flexibility that more sophisticated retailers offered.
"Nevertheless, the boost from online was not enough to make this a Christmas to remember for most retailers. The three-month rolling total sales across all categories was the weakest for the entire year while non-food had its slowest performance since January 2013."
Total food sales were up 0.2% year on year in the three months to December, weaker than the 12 month average of 0.3%. Over the quarter, food like-for-likes fell 1.1% year on year.
Non-food like-for-likes over the three months increased just 0.6% while total sales increased 1.5%, driven by online.
KPMG head of retail David McCorquodale said: "Despite a number of positive economic indicators, retail sales over Christmas were relatively flat with more products on discount and the depth of discounting also deeper.
"Although retailers tried to tame Black Friday 2015, it still had a significant impact on the shape of sales over the festive season, spreading spend over six weeks rather than two. Fashion sales were the losers in December as mild weather deferred the need and wet weather deferred the inclination to try and buy a new winter outfit.
"The grocers had a fairly admirable Christmas with total food and drink sales back in the black for the first time since September in spite of the persistent price deflation in the sector."