The City has given the green light to retail IPOs after poring over the industry's Christmas performance.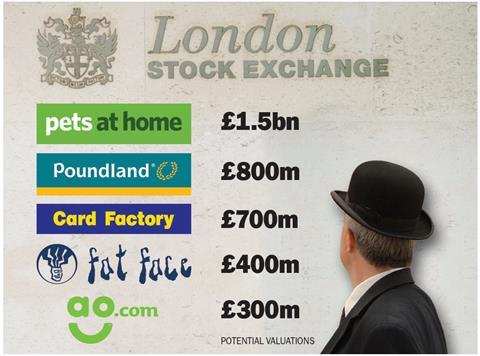 The window has opened for retailers seeking a public listing, but only for a limited time and only for the right companies, analysts and corporate financiers told Retail Week.
Poundland and Pets at Home are expected to be among the first retailers to go public, followed by fashion etailer Boohoo and convenience chain McColl's.
Others hoping to list include mobile phone specialist Phones 4U and fashion retailer Fat Face, which appointed advisers this week. House of Fraser, Game and Superdrug owner AS Watson are also considering a float.
Online and value retailers in particular are well placed to take advantage of the IPO window, which is likely to close later this year, as investors seek unique stocks.
Boohoo, Indian fashion etailer Koovs and electricals specialist Ao.com are among etailers seeking a float, while Poundland, Card Factory and B&M Bargains are eyeing bringing their value offer to market. Investec analyst Kate Calvert said investors were "keen" to back value and online. "There is currently a scarcity of those stocks. With online fashion there's only really Asos."
Independent analyst Nick Bubb said: "Ao.com and Boohoo should get a good reception. People want something different." Bubb is a consultant to Zeus Capital, which is advising Boohoo on its float.
KPMG head of retail David McCorquodale said: "Retailers with equity growth stories or the ability to produce a lot of cash will do well. Category killers like Card Factory and Pets at Home will also do well." But he cautioned: "They won't all float." One corporate financier said: "The question is how long will the window be open? All it takes is a couple to struggle and the milk will curdle."
PwC capital markets partner Mark Hughes said: "Those out in the market sooner stand a better chance."
But Clearwater Corporate Finance partner Gareth Iley said: "It doesn't shut for one bad float. Businesses need sensible prices and to be in good condition."
City insiders have questioned whether potential floats by Game and House of Fraser will get away.
One analyst said Game's reliance on the video games cycle may deter investors. However, a Game spokesman insisted the retailer is well placed following reinvigoration under its new management. He declined to comment on the float.
Some analysts raised concerns over House of Fraser's complex ownership structure and debt levels. However, other sources said neither issue was a concern for the retailer.
City opens door to retail IPOs as Poundland and Pets at Home head the queue
1

Currently reading

City opens door to retail IPOs as Poundland and Pets at Home head the queue

2