The Co-operative Group has been in the headlines recently for all the wrong reasons. Can the stricken mutual turn things around?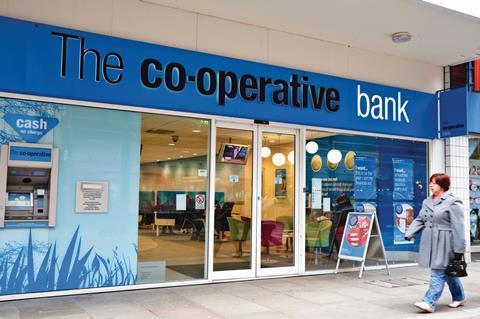 The Co-operative bank
£1.3bn loss
Somerfield
£226m write-down
The Co-operative food
£22m profit down
When the Co-operative Group's interim boss Richard Pennycook unveiled the group's catastrophic £2.5bn loss last week he took the opportunity to urge boardroom reform at the beleaguered mutual.
"What's happened this year is not an accident," he said. "Over a number of years, management of this organisation have taken some fundamental missteps which have resulted in a weakening of a very proud organisation. 150 years of heritage has been badly damaged over the past five years."
"150 years of heritage has been badly damaged over the past five years"

Richard Pennycook, Co-operative Group
He said there is a need "for fundamental reform of the way the [Co-operative] society is governed if the group is to be able to navigate successfully the issues that a business of its size and complexity faces".
Scandals including the £1.5bn hole in its banking arm, which was controlled by a chairman who last week was charged with possession of drugs, have made the need for reform clear.
Or at least clear to everyone apart from, it would seem, many of those within the organisation for whom reform would mean the curtailment of their own powers.
The Midcounties Co-operative president Patrick Gray said earlier this month that its board – which has a vote on any changes to the Co-op's structure – was unanimous in not supporting reform ideas proposed by Lord Myners, who had been brought in to conduct a no-holds barred review of corporate governance and joined the group board as a senior non-executive director. Myners has since resigned from the board in the wake of the opposition.
But can the Co-op survive without such reform? Pennycook insists that there is no danger of its collapsing in the short term.
"This isn't a discussion around imminent failure. It's a discussion about restoring its health. It's clear if we have the next five years like the past five, this is not going to be a healthy organisation," he says.
Kantar Retail director Bryan Roberts agrees that the Co-op's short-term future is assured but believes there is a longer-term threat unless there is reform.
"Its retail business is not going to disappear overnight, but it would be signing its long-term death warrant," he says.
But how do you reform an institution that doesn't appear to want it? By adopting a soft and gentle approach, it would appear.
The Co-op revealed last week that it would not be asking its members to vote through any dramatic proposals on a new structure but rather on four general principles. These are:
The creation of a board of directors, elected by members, that is "individually and collectively qualified" to lead an organisation of the size and complexity of the Co-operative Group;
The establishment of a structure that gives the Co-operative Group's members appropriate powers to hold the board properly to account for the performance of the business and adherence to co-operative values and principles;
Moving towards 'one member one vote', with "appropriate" representation for independent Co-operative societies, and;
The inclusion of provisions in the group's rules to protect against de-mutualisation.
Opposition to reform is perhaps inevitable in a 150-year-old organisation that has prided itself in its community base. Moving towards a structure more in common with a Plc was bound to put some members' backs up but the principles clearly send out a message that reform does not mean scrapping the mutual structure.
Conlumino consultant George Scott believes a two-tiered structure with a members' board and a board of directors could offer a solution. That is a proposal tabled by Myners himself.
Scott says the John Lewis Partnership is a good example for the Co-op to follow. "It demonstrates there is another route to go other than as a Plc. There is definitely a future for the mutual concept. John Lewis shows it can be competitive and improve margins and satisfy shareholders," he says.
Roberts agrees that the John Lewis Partnership could provide a model for the Co-op because it has proved it can operate under a unique structure and still make difficult decisions.
"The Co-op is more than capable of being a credible player in both financial services and retail if the board has the freedom to make some tough decisions," he says.
Roberts adds that he is excited about the potential for turnaround of the Co-op's food business, which is the second-biggest player in the convenience market after Tesco. "Its food retail business hasn't had a brighter future. They've got some great people on board and great things are going on in-store," he says.
Lack of clarity
However, one retail expert believes the internal power struggle stems from a lack of clarity in what the Co-op stands for. He says: "Fundamentally it's lost its raison d'etre. If you go back historically, it had a very clear mission of providing fair and unadulterated food and other products to its members in an environment which was exploitative.
"The role is much more difficult to occupy these days when supermarkets by and large provide good quality food at good prices with a good choice.
Its fundamental problem is that it's lost its mojo. How is it different from other retailers? They need to reignite the spirit of the movement for the new era."
That is what Pennycook is trying to do through reform, ensuring that there is a "compelling purpose" for The Co-op that every member buys in to.
"Governance reform in isolation is meaningless," he says. "Our customers, members and colleagues all need to know that there is a compelling purpose, a reason to be here and a compelling strategy for our organisation.
If they buy in to that, then the change necessary in order to deliver on that purpose and strategy, we hope, will be widely accepted."
Setting the story straight
The Co-op chair Ursula Lidbetter agrees that will help convince members that reform is the way forward.
"We need to show what we will be able to do if we can govern things in a better way," she says. "It's making sure we can set out those steps and that story, so those people can completely understand what the issue of governance is for the Co-op."
Lidbetter claims that members are "almost unanimous" in recognising the need to reform and Pennycook is hopeful that members will see sense.
"If, in the 21st century, there isn't a place for a an organisation that campaigns and invests back into the community then that would be a very sad day," he says.