In the final instalment of Retail Week's quarterly analysis reports, we uncover how the mood has changed among the UK's top retail bosses
'Eventful' is something of an understatement as the UK's leading retail bosses reflect on 2015 and the political and economic factors that impacted on their experiences of the year.
Low inflation, an end to real wage decline, healthy credit markets and strong employment all contributed to a brighter mood for retail chiefs in the first quarter of 2015, and that optimism continued to grow following the unexpected outright win by the Conservatives at the general election in May.
In the months that followed, bosses experienced a significant shift in mindset as they, like the rest of the country, faced the realities of austerity measures and the prospect of £12bn of future cuts to government expenditure.
As we approached the third quarter, migrant and refugee chaos across Europe diverted attention away from the European referendum, and global factors, such as the slowdown in the Chinese economy and the potential increase in US interest rates, were also found to be weighing heavily on leaders' minds.
The average person on the street found themselves in a steadily strengthening position, with the UK likely to be among the fastest-growing economies in the G7, and employment climbing back up to pre-recession record highs – not to mention an uplift in average weekly earnings for UK workers.
Set against this backdrop, Retail Week, in conjunction with our Retail 2015 partner Kurt Salmon, sought to find out what the mood is like among retail chiefs in the final quarter of 2015 and what this means for the retail industry as they fast approach a new year.
Retail 2015
Economic sentiment
Retail bosses' confidence in the state of the economy is improving, confirming the upward trend that first emerged in early 2015 and that has continued throughout the year.
In our first instalment of the sentiment analysis, 55% of retail bosses said they were slightly more confident in the state of the economy compared with the same time last year, rising to 61% in the second quarter, but dropping to 45% in the third. In the final quarter of 2015, percentages have again risen to 67%.
The level of retailer confidence in the fourth quarter is largely a reflection of the success of last month's Black Friday and predictions of an equally strong Christmas trading period. In the UK, spending on Black Friday smashed the forecasted £1bn mark – ecommerce alone racked up £1.1bn of purchases, up 36% on 2014 – despite the decision by some big-name retailers such as Asda to step back from the promotional fray.
"The eagerly anticipated surge in sales in the run-up to the Christmas period is contributing significantly to retail bosses' confidence in the state of the economy," says Helen Mountney, managing director of Kurt Salmon UK and Ireland, who points to recent major sales day successes as the basis of retail chiefs' current optimism. "It has been widely reported that consumers have held fire on purchases in October as retailers attempted to outdo each other with deals and offers for Black Friday and Cyber Monday. Retail bosses have already had a glimpse of the effect big events can have; Alibaba reported that this year's Singles' Day was the largest in its history with £9.4bn in sales," she says.
ONS figures confirm this view, demonstrating that retail sales volumes fell in October following a 1.7% rise in September, when sales were boosted by the Rugby World Cup. Compared with 2014 when there was a sudden fall in sales in the days running up to Black Friday, this year's dip started more than a month in advance, suggesting shoppers were holding back for Black Friday's promotional extravaganza.
This trend was also reflected in the latest sales monitor from the British Retail Consortium, which showed like-for-like sales in October slipped 0.2% from the same month last year.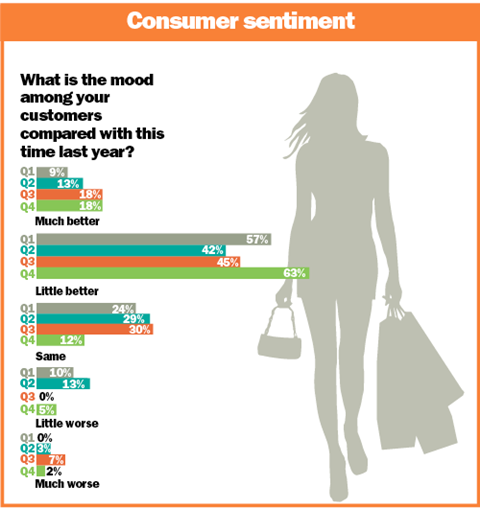 Consumer sentiment
While official figures suggest the unseasonably warm weather in the last quarter has added pressure to UK retail sales, with some sectors negatively affected in the early part of the quarter, this doesn't appear to have impacted on retail bosses' perceptions of consumer sentiment. In fact, the reverse is true, with this quarter revealing the highest ever percentage of retail chiefs reporting consumer mood is a little better – up to 63% (compared with 57% and 45% in the second and third quarter respectively).
This feeling of a modest rise in UK consumer confidence can largely be attributed to a growing sense among shoppers that their financial prospects are more secure, with their sentiment about job security and debt level showing signs of improvement.
Despite global economic and geopolitical uncertainties, strong real earnings and employment growth are boosting consumer spending power, along with lower petrol prices, asserts Mountney.
"The main contributing factors are positivity in the jobs market, zero inflation and the availability of generally cheaper fuel. It has been reported that the average household will have an additional £500 per year to spend as a result. Official figures show the employment rate in the UK has hit its highest level since 1971, thus reducing pressure on household budgets and increasing the likelihood of additional discretionary spending in the run-up to Christmas," she says.
The cost of household essentials has also decreased as a result of cheaper energy, she adds and, as a result "retail bosses have already witnessed an improvement at their tills".
Other measures of confidence are also indicating that consumers are in a good financial mood, including wage inflation, which is starting to outstrip price inflation for the first time in many years, and mortgage rates which are at historically low levels.
Survey figures from YouGov show confidence climbing to a 17-month high, which will lead to even higher levels of optimism among retailers, Mountney predicts for 2016.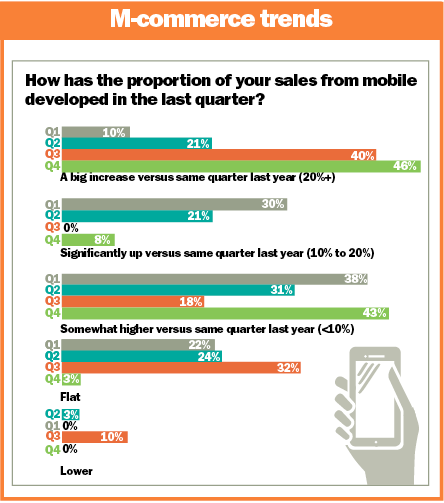 M-commerce trends
When asked about mobile penetration, 46% of retail bosses said they had experienced increases of more than 20% in sales from mobiles. Meanwhile, 43% said there was a somewhat higher increase (>10%), demonstrating the ongoing popularity of mobile as a sales channel.
Given the transformative impact mobile is having on the retail landscape as a whole, it's not surprising to see continued growth in sales via this channel, according to Mountney.
"The level of companies springing up in the high-tech space to assist retailers to capitalise on the mobile channel, among others, is testament to the opportunity that exists," she says. "Our key retail contacts have confirmed media claims that are suggesting half of all online payments are now made via mobile devices."
This mobile-centric consumer mindset is certainly true of Black Friday when between 6am and 8am web traffic was dominated by smartphones. Over the entire day, mobile accounted for 34% of traffic and and tablets 13%, according to PCA Predict.
For Mountney, this increasing shift to m-commerce also highlights "the requirement for sophistication on small screens as retailers see two-thirds of mobile payments being completed via smartphones rather than tablets", she says.
Adopting mobile apps is an area where retailers lag behind, according to a new report by Retail Week, which audited the customer-facing multichannel capabilities of 45 retailers in the UK's home and leisure sector against 59 criteria.
The majority of retailers do not have a smartphone app, while tablet apps are even more rare, it found. Even among the more mainstream retailers a tablet app is by no means guaranteed. Marks & Spencer and Wilko are among the high-profile names without one.
In 2016, it's vital retailers prioritise investment in developing mobile-responsive websites and customer-friendly smartphone apps, according to Mountney.
"Ease of navigation and payment are paramount to a retailer's success in driving sales through the mobile channel. If the customer experience is poor, the sale will not be converted. As basket sizes increase in the mobile channel, it is critical to make the process as straightforward as possible for the customer."
Retail 2015