Zalando fourth-quarter revenue surged 25%-26% to €1.09m, according to preliminary figures.
The etailer expects EBIT to rise from €71.8m to between €81m and €104m for the quarter.
Over 2016, Zalando sales will jump 22.6%-23.1% to €3.6bn.
German fashion etailer Zalando broke through the €1bn sales barrier in its fourth quarter as revenue jumped 25%-26%.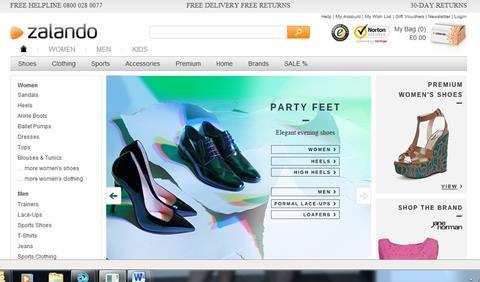 According to preliminary figures, sales surged to €1.09bn. Adjusted EBIT is expected to hit €81m-€104m over the period, up from €71.8m last year.
In 2016, Zalando sales are expected to have grown 23% to between €3.63bn and €3.64bn.
The etailer's profitability improved substantially over the year, with adjusted EBIT approximately doubling to €202m-€225m and margin jumping from 3.6% to between 5.6% and 6.2%.
Zalando co-chief executive Rubin Ritter said: "We have completed a successful 2016. For the first time we broke the billion-euro revenue barrier in a single quarter, a clear result of our customer focus."
"We will continue to emphasize growth and further invest behind an ever-improving customer experience across all our markets."
Zalando intends to open a satellite warehouse in Sweden in the course of 2017, similar to its satellite warehouses in France and Italy.
The facility, which will be run by a service provider, is designed to improve Zalando's customer proposition in its important Nordic markets in Sweden, Norway, Finland and Denmark.