The delays have been overcome and the most eagerly awaited store of the year has arrived – Topshop has opened in Manhattan. Before the crowds descended, John Ryan walked the shop with Sir Philip Green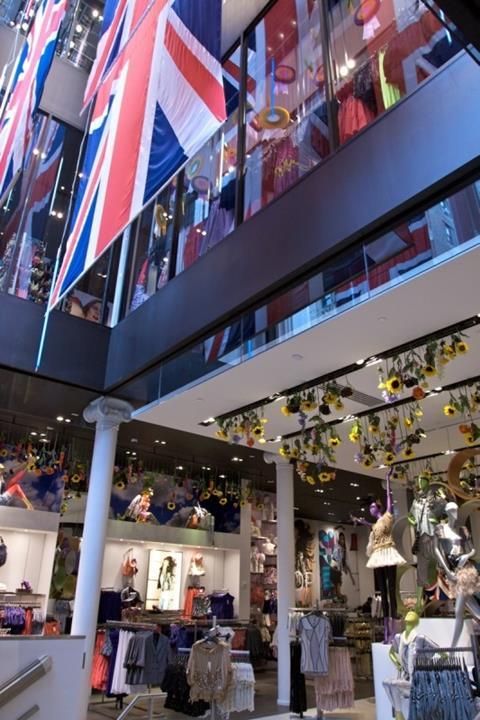 This one has been a long time coming and its arrival was greeted by a fanfare of celebrities, liggers and well-wishers. The store is Topshop in New York, which opened at 11am on Thursday after a 15-month development period.
It is also the start of what owner Sir Philip Green hopes will be a concerted push across the US, with flagship Topshop stores opening their doors in all of the country's major cities.
However, that prospect is still some way off and if the experience of this 40,000 sq ft store – at 487 Broadway in Manhattan's SoHo – is anything to go by, it will be a tough journey. In fairness, the extended lifetime of the project, which has seen this listed cast iron building transformed, is not typical of what a UK retailer would normally expect when taking possession of an empty unit. But this was different.
Green says: "When you're building a brand in a market and you've got several hundred shops, it's always going to be slight variation. You can't take more risk than that. And you can't go and spend 0m on creating every new store. Let's get practical, this store was a rebuild – it wasn't a refurb. This was a dustbin. Basically, we had to renew the building."
The outcome is nonetheless impressive. Topshop New York does start with an inherent advantage. As Green puts it: "The only thing I saw from the beginning when I looked at the outside was that this is a f***-off building." It is, and it's hard not to be a little in awe of all the buildings in this part of New York, most of which feature very high ceilings, cavernous interiors and cast-iron pillars that run up through them.
Green employed London consultancy Dalziel + Pow to create the interior in a move that might seem surprising, given his previous views on design agencies. Despite this, there appears to be a strong streak of mutual understanding when speaking to both parties about what was required and what has been achieved.
Dalziel + Pow has, over the past couple of years, been responsible for the look of many of the UK's retail interiors. David Dalziel, creative director at the consultancy, says: "The hardest thing for us at the moment is keeping a distance between our projects. It's something that we really work at."
Green seems happy. "Well have a look at it and tell me what it's got to do with anything anybody else does. There is a little bit of extra ingredient in it," he says.
Passing through the main doors, flanked on either side by enormous windows – one of which bears a punk-style graphic of Kate Moss set against a Union Jack – the shopper enters a fashion store that has everything you'd expect of this brand. Glance up and there's a narrow void at the front of the shop that runs to the top of the store, two floors above. The space has been filled with more Union Jacks and there's a sense that for his arrival in Manhattan, Green has decided to give Ben Sherman a run for its money in playing the UK card.
Just beyond the entrance is a large display filled with mannequins and backed by the Olympic-style rings that were on show at the Westfield store. Topshop managing director Mary Homer says that this is intended to act as a scene setter for fashion shoppers and picks up on the current fashion trends on offer in-store. "We probably have three or four trends at any time in a store this size. At the moment, what we call Glory Days is probably our biggest trend." Glory Days, it turns out, is a mix of post-war nostalgia, coupled with eclectic soft-prints, according to Homer.
The ground floor itself is a mix of high fashion, relatively inexpensive women's fashion and accessories. It is, in fact, a space that seeks to make the most of its height to show off the merchandise. Green says: "What's the uniqueness of this? You dream about the height. You start there. If this was a normal ceiling height, half of what you're looking at wouldn't exist. There's nobody in the world that could have envisaged what this would deliver." The ceiling is black, the Ionic pillars have been painted white throughout and white rafts are suspended overhead, acting as lighting rigs.
The latter have been decked with garlands of hanging flowers, an effect that softens the quite severe architecture of this interior. And wherever you look there is something to capture the attention, with a dark mezzanine level at the back of the floor providing a home for a DJ, while beneath this, white leather sofas, with the inevitable Union Jack cushions, provide a relaxation area.
It is worth mentioning the fitting rooms as well. These are also on a mezzanine floor, on the right-hand side at the back of the shop and are accessed via a staircase. They are brightly lit, making a feature of people trying things on and allowing them to peer down at the shoppers inspecting the stock in the melee below.
But strangely, special praise is reserved by Green for the escalator. "Where do you find a sexy escalator? Have you seen it? I mean, how sexy is that? In the States, no one has escalators at the entrance to a shop. When we saw the building, we thought, that's what we've go to do, because that's what we do in England and we've got to get people upstairs."
Up on the next level, his enthusiasm proves infectious. The escalator is semi-free-standing, affording top to bottom views of the building. And on the wall that backs it, a huge ecru canvas fills the space. This has images of London and objects intended to remind the shopper of all matters British. As well as the London Eye, a red bus and a London street sign bearing the word "Portobello", there's even a black and white picture of Dalziel's wife Karen as a child.
Arriving on the first floor, two elements greet the browser – a Kate Moss boutique and an area for Topshop-sponsored designers called, er, "Boutique". The Moss shop has its own equipment and also carries the store's most expensive pieces, at just short of $600 (£406).
Beyond this lies a Moto-branded denim shop and at the far end of the floor there is knitwear and swimwear. Homer says that the swimwear area, located next to a window overlooking Broadway, will expand as summer approaches, but that the store will carry a range of the stock throughout the year.
And so to the top floor, home to lingerie, which accounts for around 2 per cent of Topshop's turnover, and footwear, which is much more important. The decision to put footwear on the top floor was not accidental, according to Homer. She explains that shoes are "a destination department for women and that will help get people up through the store". Baroque-style chairs and silver-upholstered stools vie for attention with the merchandise, which is very bright and mostly seems to feature improbably high heels.
It is the light on this floor that is perhaps most arresting, though, with the large windows allowing high levels of daylight to penetrate into the interior.
Finally, the 6,500 sq ft basement, home to Topman, is worth the trip – if only to admire the way in which this floor's designer area has been demarcated by painting the walls red, a sharp contrast from the rest of the floor. Topman managing director Dave Shepherd says that overall the look for this level is not "like anything we have done before" and that it builds on the experience of recent openings in White City, Bristol and Edinburgh.
The obvious question is what next and can Green fund it? Green says that many UK retailers operating in New York lack the resources that Arcadia can bring to Topshop overseas. "This," he points around him, "is coming off a billion-pound business. So therefore the thing we're able to do, just in terms of the scalability of the engine behind it, means that we can get things done."
He continues: "You know what the good news is from everybody I've seen here in America? We don't have to be careful because we're playing with our money. We're not leveraged off the planet. We could write a cheque for 5m or $50m or Story text00m or $500m and we don't need to make any apology. This is not an ego-trip flagship. This is a business – at the right price, plus or minus a few dollars."
Homer says that a second Manhattan store is a distinct possibility and that additional flagships in cities such as Miami, Los Angeles and Las Vegas are all being considered. And there seems good reason to suppose that this is not idle talk. Topshop has conducted a major marketing offensive in New York and it is paying off, with levels of retail excitement that haven't been seen since the onset of the downturn.
Manhattan is agog and as Green squired Topshop muse Kate Moss around the store a day ahead of its opening, it looks as if this bold initiative will pay off. To the simple enquiry "Are you going to do the business here?", Green is unequivocal: "Absolutely. 100 per cent."
Route to Broadway
The large space that Sir Philip Green signed for more than 15 months ago was previously a street fashion outlet called Yellow Rat Bastard. Its lease had expired and, as business was rumoured to be increasingly tough, it relocated to smaller premises across the street. The move gave Green the space he had been looking for in the downtown area that houses most of New York's edgier fashion retailers.
But the road to opening this store has been long and full of twists and turns, many of which have been engineered by the city's planning department. Green says: "In America, you move that plug there" – he points to a socket in the ceiling – "three inches and you've got to resubmit the plan. It's a joke." He relates how the letters spelling the words Topshop and Topman that appear above the entrance were very marginally higher than detailed on the plan. "So we had to resubmit.
You can't imagine. Torture. You can't imagine the b******s," he says.
Getting the store to its current state has involved people from across Arcadia being hand-picked and co-opted onto the project. Green indicates a man in the distance: "Michael Lindsey, who's been in charge of construction, was a manager at Bhs, Oxford Street. He then moved into another department, he developed himself and then we brought him here. I'll tell you what it's all about: good people find you; bad ones avoid you. Simple."
And what has been learnt in New York will appear in London. Topshop Oxford Circus is due for a makeover. Expect New York to make an appearance.
In Manhattan
Size: 40,000 sq ft
Design: Dalziel + Pow
Owner: Sir Philip Green
Address: 478 Broadway
Cost: 0m (£13.5m)