He might "bleed orange" – but is passion enough to make Superdry's interim boss Julian Dunkerton the man to return the fashion retailer to rude health?
Speaking at Superdry's annual results media briefing, founder Dunkerton brandishes a shapeless rust-coloured jacket, which he's has plucked from a rack of women's coats designed under the retailer's previous management.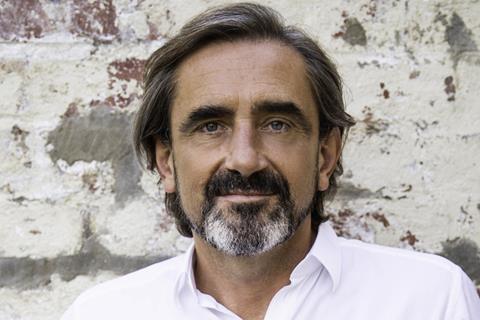 "I had to come back because [the brand] was being pointed in the wrong way," he says, comparing the rack to one on the other side of the room, filled with sleeker, dark-coloured, premium-looking product designed since he returned to the helm in April.
Superdry's full-year results made for painful, albeit not surprising reading, as the retailer swung to an £85.4m statutory pre-tax loss, against a £65.3m profit the previous year, while sales were flat at £871.1m.
Restoring Superdry's once-stellar performance would be a daunting task for even the most experienced chief executive. However, Dunkerton is confident that a product-focused formula homing in on fabric, shape and branding is the silver bullet to turn the business around.
"We had a great formula, so let's go back to it," he says.
When asked how he would win back the attention and spend of the lucrative 16-24-year-old shopper, Dunkerton says: "It's a simple process of designing to them and then talking to them in the language that they want through the medium that they want.
"It's not difficult to do, you've just got to focus in on it."
Daunting task
Such optimism is admirable, but whether it's realistic is the more important question – one only needs to look to the likes of Gap to see that cool, once lost, is brutally hard to win back.
Nevertheless, Dunkerton is putting his money where his mouth is when it comes to driving the retailer's appeal to generation Z. Superdry will invest substantially in social media and marketing, work on streamlining lead times on product development and has snapped up creative director Phil Dickinson, who has a 15-year stint at Nike under his belt.
Beyond getting product and brand communication back on track, there is the matter of 114 stores, comprising nearly half of the retailer's store estate, which have been identified as underperforming.
On this point too, Dunkerton is optimistic. He maintains Superdry is in a "perfect negotiating position" to secure more competitive rents – 40% of its store estate is up for lease renegotiation within two years and 70% within four.
"When you have somebody at the head of a company who is very, very passionate about product I've always believed it's a good place to be"

Phil Dickinson, Superdry
Dunkerton's passion for Superdry is plain to see
"I bleed orange – this is my life," he says, referring to the retailer's trademark logo colour.
"I created this with James [Holder] from nothing so it's really important whatever the future looks like it delivers where this company should be going in a stable, intelligent way."
And while chair Peter Williams says a search for a permanent chief executive is underway, Dunkerton is keen to stress that he will "always be involved" in some capacity and a future chief executive's vision for the company would need to align with his.
Combine this with the fact that the Superdry executive team anticipates that any turnaround will take up to two years and you are looking at quite a daunting task for any would-be successor.
Passion vs professionalism
It's one thing to be tasked with turning a flagging fashion business around against a backdrop of stagnant consumer spend and Brexit. It's quite another to take the helm knowing the co-founder will be breathing down your neck in an as yet unspecified capacity – particularly when he was responsible for seeing off his own predecessor, Euan Sutherland.
For all Sutherland's faults, which Dunkerton has been more than happy to talk about, he was known for having brought greater professionalism to Superdry – which was a little lacking at the media briefing as Dunkerton took several confusing minutes to explain a metric that broadly indicated an improved performance at the retailer's Regent Street store during a five-week period since he took over, thanks to a wider range of SKUs.
Dickinson says: "When you have somebody at the head of a company who is very, very passionate about product I've always believed it's a good place to be." Dunkerton is certainly that.
The pressing question is whether returning to previous methods is the best way to tackle new problems – and how to find a successor who can balance getting Superdry back on track with keeping Dunkerton onside.
Grace is Retail Week's head of content.