The retail sector's issues around sustainability and ethics go much deeper than sounding off about a £1 bikini, says Missguided head of product quality and supply base Paul Smith
At 3.12pm on Monday afternoon, an embargoed press release dropped into my inbox from the Environmental Audit Committee (EAC).
It was the news that the government had decided not to endorse any of its recommendations following its analysis, which I had given evidence to on behalf of Missguided.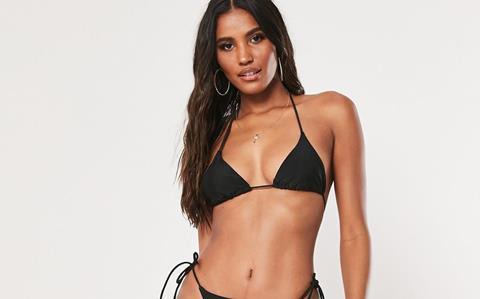 I guess it was inevitable that the £1 bikini we'd been offering as a loss-leader to customers for the previous week was going to be seen in that context.
And so it was – it was no surprise that those with strong and sincerely held beliefs about fast fashion condemned it as a representation of all that was wrong about what we do.
But while I respect those words, I think we have to be careful not to confuse the symbolism of totems with real issues.
Attention to detail
Let me be very clear: our £1 bikini was priced to generate interest and we're not embarrassed about it. At Missguided we've always lived close to the edge when it comes to marketing, but we're comfortable with that because there are never shortcuts when it comes to the product.
Fast fashion it might be, but we also know that fast turnaround on a high number of relatively low-volume orders allows us to use end-of-run material that may have been destined for landfill. We expect our suppliers to enforce the Ethical Trading Initiative (ETI) Base Code and, unlike many other retailers, we're proud to be active members.
Our £1 bikini was sourced no differently to anything else we offer. It was made by one of our audited supplier partners and with the same meticulous attention to detail as every item on our site, whether it's £20 or £200.
And we're proud of how it looks. What's more, so are our customers. Each batch of 1,000 has sold out in hours.
Play by the rules
I accept – in fact, I said it to the EAC – Missguided is at the beginning of a journey on many of the issues it raised, but we've made good progress on some issues such as the treatment of garment workers in Leicester.
We are committed to being at the vanguard of efforts to create a vibrant, ethical, homegrown manufacturing base in Leicester.
Unlike many of our larger peers, we are a member of the ETI and we play an active role in the ETI's Leicester Working Group.
In the last 12 months, we have consolidated our supply base in Leicester from 80 units to 11, so we can actively monitor compliance with the standards it sets.
We have given our team of 19 buyers and assistant buyers detailed training to ensure suppliers play by the rules.
I have our CSR manager down in Leicester for a minimum of two days every week.
"It's in the country's best interest for there to be a vibrant, revived homegrown fashion manufacturing base"
We're not blind to the issues of meeting the customer's love of catwalk fashion, but we're proud of the fact that 30 per cent – around £60m of orders at retail price – are placed in Leicester each year.
And we want to go further.
That's because it's in the country's best interest for there to be a vibrant, revived homegrown fashion manufacturing base in Leicester that can challenge the world. But we recognise this can only happen if companies like Missguided source to the highest standards.
That's why we won't compromise on our standards – for bikinis, blouses, beanies or anything else.
I also believe if we'd offered our bikini for free rather than £1, it would have barely generated any headlines.
That's why, despite some of the headlines, I'm not entirely sure attacking the price of a loss-leader designed to generate awareness really moves anyone closer to answering some of the serious questions raised about the fashion industry.
Missguided will play its part but we'll also be wary about those who demonise the democratisation of fashion – because we have to take our customer on the journey too.
Paul Smith is head of product quality and supply base at Missguided.