Marks & Spencer profits have risen but sales fell as boss Steve Rowe vows to "leave no stone unturned" in his quest to transform the business.
Total sales dipped 3.1% in the six months to September 29 but pre-tax profit before adjusting items edged up 2% to £223.5m in its first half.
Adjusting items mounted to £96.8m, including almost £50m for its UK store closures.
In its food division, like-for-likes fell 2.9% and total sales were down 0.2%, which the retailer said reflected tough trading, the timing of Easter and its actions to "restore trusted value", which include fewer promotions and investment. Gross margin was down 25 basis points in its food business.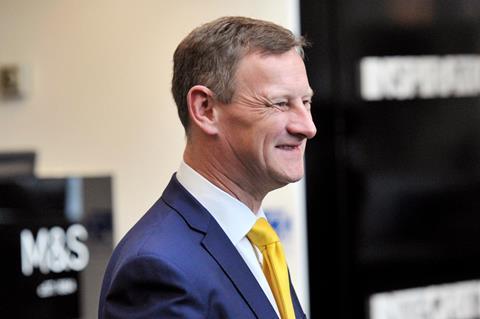 In clothing and home, like-for-likes dropped 1.1% and total sales fell 2.7% as the retailer's store closures hit sales. Gross margin was down 20 basis points, which it said was due to the timing of its Sale. The retailer said it had begun to reshape its buy by reducing the number of options it has and buying more stylish and contemporary product in greater depth.
M&S warned that it expects little improvement in its sales trajectory.
It said: "Trading conditions remain challenging and the headwinds from the growth of online competition and the march of the discounters remain strong in all our markets. Therefore, as we embark on the difficult early stages of transformation we are expecting little improvement in sales trajectory."
Leaving no stone unturned
M&S chief executive Steve Rowe said: "We are leaving no stone unturned and reshaping our business, its organisation and culture.
"This phase is about rebuilding the foundations of the future M&S and we are judging progress as much by the pace of change as the trading outcomes.
"Already, we have reorganised into a family of strong businesses in the biggest change to our structure for decades. We now have a largely new, very determined and energetic management team in place. M&S is becoming a faster, more commercial and more digital business.
M&S said it had taken steps to drive "digital catch up" and trumpeted online clothing sales growth ahead of market – 20.4% of UK clothing and home sales now come from online.
It is also re-engineering its supply chain, which will remove costs, complexity and working capital. This will contribute to the £350m of cost savings it has targeted by 2020 to 2021.
M&S profits rise but sales continue to fall
1

Currently reading

M&S profits rise but sales continue to fall

2

3

4