Arcadia's catch-all brand Outfit has been given a facelift, but can this fascia be a brand in its own right? 
Been to 'The Springs' retail park? Chances are that you have not, as this large retail park development on Leeds' southern fringes is just starting to open. Boots, H&M and M&S are up and running while a large Next, due to open by the end of October, and a River Island are set to join the party.
To all of this can be added a sparkling new 12,500 sq ft branch of Outfit. For those in the dark about Outfit, it is the catch-all format for Arcadia's various fascias and it has been around for almost two decades without making many waves.
The reason for this is pretty straightforward; there has always been a sense that this store is nothing more than a collection brands in a shed-like structure with precious little to tie them together… until now.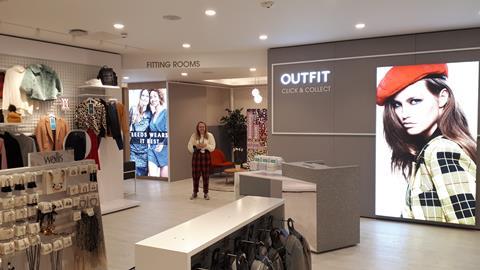 Bigging up Outfit
With the opening of The Springs branch, things are changing and Guy Smith, Arcadia's design director, says that the underlying intention of the new store is to tie together the brands under this Outfit roof as a coherent whole.
On opening day, last Wednesday, Arcadia's top brass were present to bless the rails, with chief executive Ian Grabiner doing the rounds.
What greeted them was a store that has a shiny glass and chrome fascia with the Outfit logo well above eye level, accompanied by a secondary logo listing the various brands that lie within.
And what lies within is substantially different both from other retailers on the park and Outfit branches in other locations.
Grabiner says: "This is a fresh approach to multi-brand fashion retail, cool without pretention, easy to shop yet aspirational".
This sounds a bold claim for what was a brand warehouse, yet the first thing that will strike the visitor are the two large screens positioned to the left and right of the long balustrade that marks the point where the mezzanine floor begins.
These are not the sort of thing that would normally be expected in a retail park unit as, by definition, stores in locations of this kind normally satisfy two needs: they are easily accessed and costs are kept low by low-cost fit-outs. Edge-of-town stores are functional affairs.
The Outfit fit-out certainly doesn't feel low cost, lending credence to the Grabiner's claim that the interior is 'aspirational'.
In part this is due to the way in which the interior elements have been organised.
Smith points to the fluorescent tube lighting on the ground floor, home to womenswear. In the normal run of things these would be arranged in lines running from front to back.
There are certainly tubes in this store, but they have been installed in skewed parallel lines, running from left to right across the left-hand half of the floor, which is where Topshop is located, immediately giving "more pace" to the vista, as Smith puts it.
Encouraging cross-shopping
Then there is the shop equipment and the space devoted to each brand.
Womenswear accounts for about 8,000 sq ft, and with Topshop, Miss Selfridge, Wallis and Dorothy Perkins all being given space within this, you might expect radical differences across the floor. Yet although the brand names have been applied to a number of the wall panels around the store, they are unobtrusive, deliberately so, and are part of a larger whole.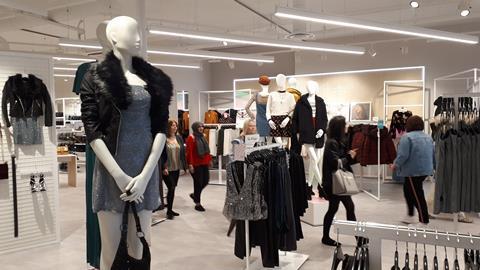 Smith comments that the perception may be that some of the brands are for a more mature demographic but "the majority of people shopping this store will probably be between 18 to 34".
As such, the layout and graphics package is intended to encourage cross-shopping between the various brands and not to work on the premise that a shopper walking in will automatically be just a Miss Selfridge, Topshop or Dorothy Perkins customer.
There is no sense of a walkway dividing the various brands and the shopper is left to meander around the mid-floor pieces of equipment at will.
Also worth noting is the area at the back of the floor set aside for exchanges, refunds and click-and-collect. The wall panels for this area are a subtle grey and the brand, as highlighted in white neon, is Outfit – no mention of anything else.
Upstairs, is menswear – Burton and Topman – and Smith is at pains to point out the various visual merchandising rails that are set against the perimeter walls with the aim of drawing attention to specific pieces of stock and how they can be made to relate to each other.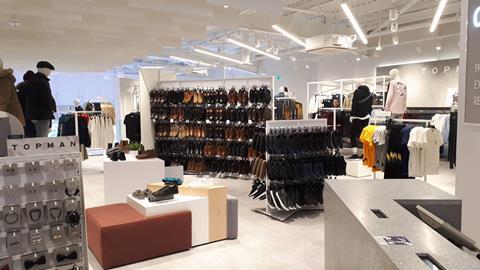 There is a lot about this store that would be pretty ordinary, were it not for the detailing. This makes it appear new and interesting and also indicates that as a design it can be readily rolled out without being prohibitively expensive.
At a time when capital expenditure is subject to greater scrutiny, the new Outfit serves two purposes – costs can be contained, while stores have a point of difference.
It also determines that the brand is almost, but not quite, Outfit, which in itself is a radical difference from any of its predecessors.
Multi-brand stores, whether it's Currys PC World Carphone Warehouse, Sainsbury's, Argos and Habitat, or Outfit, all have a place at a time when single brand propositions might not make financial sense, but they still need to look the part.
The new Outfit does and Arcadia would do well to take it to other outposts.