US fashion boss vows to have a Forever 21 store in 'every major city, mall and high street'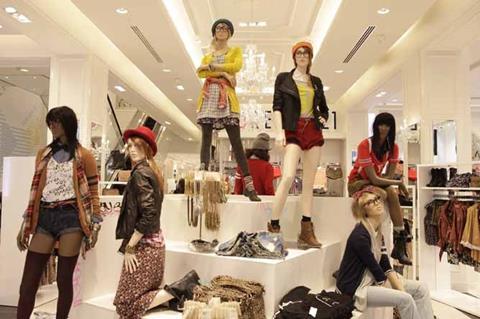 Forever 21 chief executive Larry Meyer has vowed that the US fast-fashion retailer will have stores in "every major city, every mall and every major high street" in the UK within the next five years as he gears up for a full-scale entry here with the opening of a flagship Oxford Street store.
Speaking to Retail Week ahead of the 35,000 sq ft store opening on Wednesday, Meyer described Oxford Street as the retailer's "global address", which he said will enhance its position in the UK and Europe.
Oxford Street opened to hordes of fashion-conscious shoppers, with queues around the block. While the London opening is its second store in the UK following its Birmingham debut in November, it signals Forever 21's determination to take on the UK fashion retail establishment.
The US giant, which has 500 stores worldwide, wants 100 shops in the UK. Meyer said the UK is key to his international strategy. Currently its overseas business, which also includes 36 shops in Asia and two stores in Austria, accounts for between 10% and 15% of total sales and he wants to up that to a third.
Forever 21 senior marketing manager Linda Chang, the daughter of founders Don and Jin Sook Chang, said the daily deliveries, prices and shopping environment set it apart from UK competitors.
Forever 21's daily deliveries mean it will have constant newness, which Chang said is part of its success. She said the retailer does not carry a huge stock of the same products and "customers appreciate that as not everyone is wearing the same top". And the constant stream of new products means "customers are trained to come in every day".
Forever 21's UK offensive will pitch it against rival fast fashion chains such as New Look, Primark and H&M. Verdict lead analyst Sarah Peters said Forever 21 has "adopted its own handwriting in the UK" but "its success will depend on how its competition, including New Look, will react to it".
She said the value fashion market is saturated and will not grow in the next few years so for Forever 21 to succeed it will "have to steal share from competitors".
Forever 21's Oxford Street store trades over three floors and includes a standalone denim shop and Los Angeles-style graffiti graphics. Chang said the aim is to "bring a little piece of Los Angeles to London".
It has signed for sites in Westfield Stratford City, Lakeside, Bluewater, Liverpool One and Glasgow's new Buchanan Street development, and is close to signing for Trafford Centre, Manchester. Property agent Harper Dennis Hobbs acts for the retailer.