A full year sales jump delivered a dose of Christmas cheer at Fat Face as customers embraced its festive price promise.
Full price sales surged 7.9% in the 54 days to Christmas Eve after the fashion retailer introduced the price guarentee, which vowed that prices would remain the same up until the Boxing Day Sale.
This precluded the retailer from participating in Black Friday or pre-Christmas discounting.
Fat Face chief executive Anthony Thompson said:"The price promise clearly resonated with our customers. Our focus on improved quality, design innovation and more choice of luxury yarns, fabric and gifting was also received well, and provides opportunity to further enhance our offer in coming seasons."
Bringing spend forward
Thompson said that the introduction of the price promise brought shoppers spend forward. "Customers could pick things up, wrap it up and not think about it. We saw an uptick straight away and particularly around November pay day," he said.
Despite this, Fat Face recorded its record week of full price sales in the week to Christmas Eve.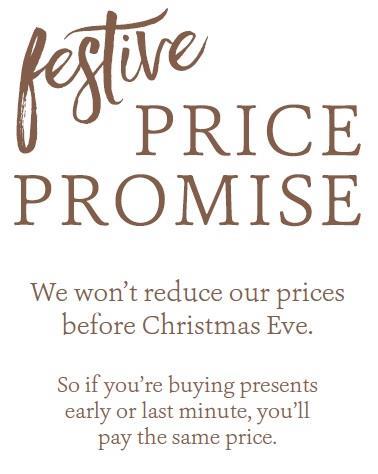 Fat Face also ran its full price promise in the US, the birthplace of Black Friday, and its four stores that opened earlier this year performed "ahead of targets".
Thompson said that the price promise was "written into plans next year".
Tighter buying
Fat Face entered its Boxing Day Sale with 22% less inventory than last year, which has in turn enabled Fat Face to launch its Spring range two weeks early.
Thompson said the retailer had reduced the number of styles it produced over the season.
He said that fashion retailers across the high street had been "more measured" in the size of their buy, particularly in outerwear and knitwear.
A challenging environment
Thompson said that 2017 would be a challenging year. "Currency devaluation, consumer uncertainty and cost inflation have contributed to an already challenging environment."
"However, we remain confident that with our focus on quality, design modernity and value for money we will remain resilient and become even stronger in a weaker market."
The retailer introduced more high-end products for the festive period which sold well. Thompson predicted this would be a trend in the year ahead: "Customers will have less in their pocket to spend. They will be buying less but buying well."
"The high street can't rely but needs value but needs innovation and newness. People want something interesting and different not every shop looking the same with a Sale banner outside," he said.