Having led the way in online innovation, Net-a-Porter continues its global expansion. Founded by Natalie Massenet 13 years ago, it helped revolutionise the way women shopped.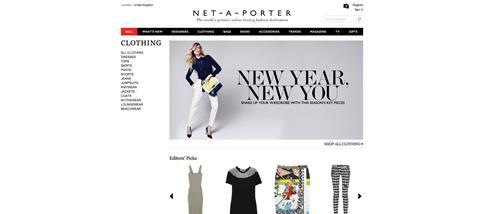 The etailer brought stylish clothes from the crème de la crème of the globe's designers together under one virtual roof and made them available at the click of a button.
Fast-forward to 2013 and Net-a-Porter has continued to innovate to differentiate itself. In recent years,competitors such as Avenue 32 and LuisaViaRoma have sprung up and Amazon has launched a premium offer, but Net-a-Porter remains among the leaders in luxury etail.
The retailer's continued focus on innovation has fuelled a number of new projects. In 2009, Net-a-Porter introduced a discount site, The Outnet, offering last season's wares at a significantly reduced price.
Two years later it launched - to much fanfare from stylish males - Mr Porter. A mixture of content and commerce, the site is headed by former magazine editor Jeremy Langmead and stocks brands such as Burberry, Comme des Garçons and Lanvin. Run in a similar manner to its sister website, Mr Porter is applauded as much for its customer service and speedy same-day deliveries in London and New York as for its slick editorial content.
Net-a-Porter has come a long way since 2000 when Massenet, frustrated with the lack of online shopping options for luxury brands, built on her experience as a former stylist and journalist for Women's Wear Daily in New York and Tatler magazine in London and created an online magazine for women, where they could order the products she wrote about.
The business was snapped up by luxury goods conglomerate Richemont, owner of brands including Alfred Dunhill, Cartier, Chloé and Montblanc, for a reported £350m in April 2010.
Richemont, which already held a 30% stake in Net-a-Porter, acquired the remainder from major shareholders including Massenet and Venezuelan investor Baywinds.
Overseas expansion has proved a key strand in the retailer's growth over the past decade and it has continually targeted new markets.
In 2006, it opened a distribution centre in New York and launched a US website, which also ships to Canada and Latin America.
With an estimated quarter of the world's luxury purchases made by Chinese nationals, the company's strategy to expand in Asia makes sense. Unlike its approach in the US, Net-a-Porter has attempted to gain market share through acquisitions.
In 2011, it bought Chinese discount fashion etailer Shouke for £6.7m. Several months later the website relaunched as TheOutnet.cn, a Chinese-language version of The Outnet.
In Net-a-Porter's next phase of expansion it will open its third distribution centre in Hong Kong this year.
However, this aggressive international expansion has come at a cost and Net-a-Porter Group posted a £27m pre-tax loss for the 12 months to March 31, 2012.
Sales have slowed compared with the heady growth rates of its early years but the retailer continues to expand significantly. In the past five years sales at the etailer rose tenfold from £37.2m in January 2007 to £368.1m last year.
While Massenet, who was appointed an MBE for her services to fashion in 2009, no longer heads the company - the reins are held by former investment banker Mark Sebba, who came on board as chief executive in 2003 - she is still chairman. In January, she replaced former Jaeger owner Harold Tillman as chairman of the British Fashion Council.
Massenet has hired former fashion editors in recent times, including Tess Macleod Smith, who was appointed to the new role of group publishing director last year from Cosmopolitan publisher Hearst Magazines UK. She has been charged with developing a global publishing division and the retailer is expected to launch a print magazine next year.
The etailer will hope its publishing prowess will earn it further positive headlines and sales.
Luxury leader
Sales for the year to March 31, 2012£368m
Pre-tax loss£27m
Sales change +54.6%
Number of employees 1,551
Chairman Natalie Massenet
Chief executive Mark Sebba