Charles Tyrwhitt has upgraded its UK and international websites as it puts ecommerce expansion at the heart of its growth strategy.
The retailer's chief information officer Simon Kerry told Retail Week the new upgrade was essential to the company's ambitions to expand internationally.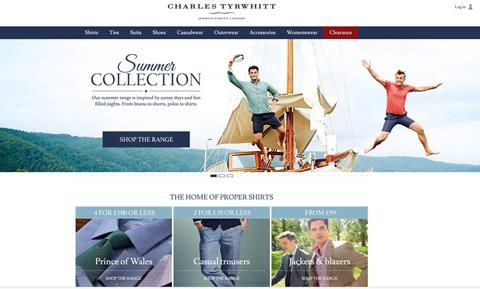 "We know we want to expand into half a dozen new territories over the next two to three years and our old platform couldn't scale to meet that demand," said Kerry.
Charles Tyrwhitt has 24 stores across the UK, US and France, but Kerry said the retailer had "no plans" to expand its bricks-and-mortar estate into new territories, instead focusing on adding up to three new countries to its international ecommerce offer "in the next 12 months".
"Bricks-and-mortar stores are important for us as a channel that our customers use and have a knock-on halo effect for our online platform, but it's not a growth priority for us," he added.
Online prowess
As well as expanding into new territories, the shirt specialist, founded as a mail-order business in 1986, plan to launch a euro-enabled English-language website and cross-border site within six months in partnership with Javelin.
The shirts specialist has teamed up with Demandware and Accenture's Javelin Group to relaunch its ecommerce sites across all of its online territories – the UK, US, Germany and Australia.
The menswear-focused fashion retailer's upgraded sites are provided by Demandware and are optimised across, desktop, mobile and tablet devices and offer customer recommendations.
Kerry said its personalisation technology is relatively well established in comparison with some of its rivals.
"Because we are a direct market retail business, we already have a single customer view and historic customer transaction data," he said .
"If you walked into our Jermyn Street flagship we could tell you what shirt you bought from us in 2003, irrespective of which channel you bought it from, and not many retailers can do that."
Charles Tyrwhitt, which Kerry said has seen sales increase 25% "for the last seven or eight years", was one of Retail Week's top 10 fastest-growing retailers last year.