First half like-for-likes sales flat
Retail revenue up 2%
UK like-for-like sales rose over 30% in the second quarter
Burberry has recorded a marginal rise in its first-half sales, driven by tourist spend in the UK following the depreciation of the pound.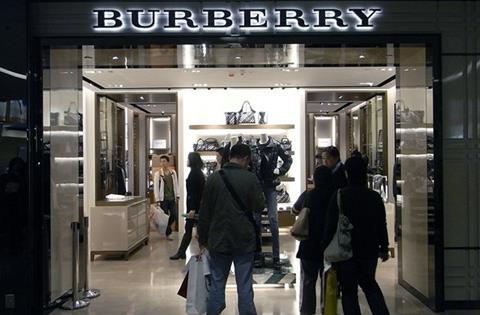 The luxury fashion retailer and brand said like-for-likes sales were flat during the six months to September 30, increasing 2% in the second quarter, while revenues from its retail arm were up 2% on an underlying basis at £859m.
The retailer reported a rise in like-for-likes sales of over 30% in the UK during its second quarter, which it attributed to "the travelling luxury consumer" cashing in on the weak pound following the EU referendum vote.
Overall sales across continental Europe were down due to declining tourist spend.
Sales in Hong Kong continued to suffer, recording double-digit declines on a like-for-like basis, although the retailer said its Asia Pacific like-for-likes were up excluding Hong Kong and Macau.
Online sales increased across all regions and the retailer launched its redesigned website last month.
Wholesale revenue slumped 14% on an underlying basis while licensing revenue was down 54% during the period.
Chief executive and creative boss Christopher Bailey said: "In a challenging external environment, we continue to focus on product innovation, retail productivity and digital leadership, against a backdrop of sustained action and investment to deliver long-term outperformance of our brand and business.
"The progress we are making to improve our ways of working, the agility of our teams to react to changes in consumer behaviour and the strength of our brand give us confidence for the future. We remain on track to deliver our financial goals."