Mature fashion retailer Bonmarché has launched a menswear range in 50 stores and online as it targets women buying for their husbands.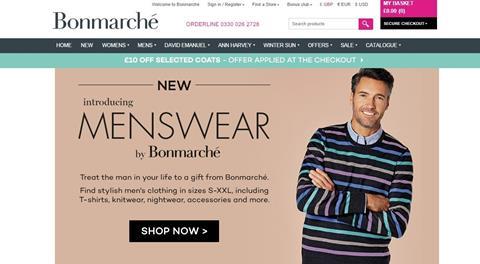 Bonmarché chief executive Beth Butterwick said it had launched the category in response to feedback from its female customers and that 80% of women buy for their partners.
Butterwick said that its menswear range has a similar DNA to its womenswear and would be "stylish, good quality, fit for purpose and good value".
The menswear collection has around 50 SKUS ranging across t-shirts, knitwear, nightwear and accessories. Butterwick, who insisted that the menswear launch is a test at this stage, said it was not launching bottoms as of yet because it required more investment upfront.
Butterwick said that older men are underserved on the high street. She said: "From what we see there are not as many choices for them as for women."
Bonmarché has already made moves to welcome male shoppers including bring chairs into stores for men to wait while their wives shop. "Men don't find out store environment intimidating," she said.
Cantor Fitzgerald analyst Freddie George said: "It looks as if it will be a small diversification, geared to women who may buy for their husbands. The range from the website looks more than satisfactory and is very competitively priced, in our view."
The menswear launch comes just months after Bonmarché relaunched plus-size brand Ann Harvey.
George said that menswear would provide "another avenue of growth" for Bonmarché and reiterated his 'buy' recommendation.
Bonmarché, which floated on AIM last year, posted a pre-exceptionals, pre-tax profits jump from £6.1m to £11.2m in its year to March 29. Its like-for-likes surged 13.5% in its most recent quarter to June 28.