Peter Williams tries to restore stability and make peace with frustrated shareholder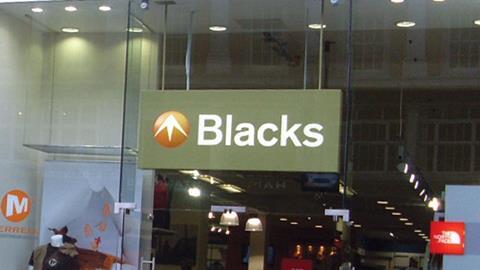 Blacks' new interim chairman Peter Williams is to table an invitation to meet disgruntled shareholder Sports Direct as he seeks to "steady the ship" and allow new chief executive Julia Reynolds to revive the struggling retailer.
Williams, who was parachuted in after chairman David Bernstein bowed to pressure from Sports Direct founder Mike Ashley to resign, told Retail Week: "I'm going to see all major shareholders, and of course, there will be an invitation tabled to Sports Direct."
Ashley is Blacks' largest shareholder and has long been a thorn in the side of the struggling retailer. Last year he voted against Blacks' fundraising plans, then Blacks rejected a takeover bid for the company from Ashley. He called this month for Bernstein to quit after Blacks shares lost 97% of their value since Ashley invested in 2007.
The invitation comes as new chief executive Reynolds, in her first interview, revealed to Retail Week her plans to revive the retailer. Williams said: "I'll manage all the corporate relationships to allow Julia to crack on and make the changes she needs to the business."
Reynolds, a former Tesco director and boss of Figleaves, who took the reins on August 4, said her first task was to refresh Blacks' product range. She is working with former Primark buying and merchandising director and product expert Julian Kilmartin, drafted in as a consultant to advise on clothing. Reynolds said Kilmartin – who had been due to join New Look before its management upheaval – is "the best in the business and he's helping out on buying and merchandising".
She said own-brand offered a "huge opportunity" for Blacks but "needs some serious attention". She plans to widen and improve the own-brand offer.
As speculation grows that Ashley is plotting another bid for Blacks, in which Sports Direct holds a 21% stake, Reynolds said she is focusing on "getting through the next four months".
She said: "It's going to be tough for rest of the year. We're just going to batten down the hatches. We'll manage our cash and concentrate on keeping our heads above water over the next few months."
She said her product changes would not bear fruit until spring 2012 at the earliest.
Williams, who has been advising the Blacks board for six months and was "heavily involved" in Reynolds' recruitment, confirmed that the retailer would be seeking a refinancing, although he gave no timescale. He said the retailer was not considering a second CVA.
Williams said the funds would enable Reynolds to invest in the assortment and improving stores, which she said "need some TLC".