Asos has taken down its site after a fire caused "substantial damage" to its main warehouse in Barnsley on Friday night.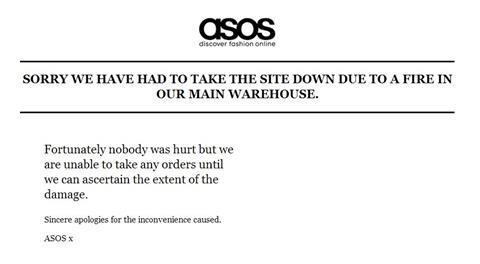 Visitors to its website are met with a message that reads: "Sorry we have had to take the site down due to a fire in our main warehouse. Fortunately nobody was hurt but we are unable to take orders until we can ascertain the extent of the damage. Sincere apologies for the inconvenience caused."
More than 60 firefighters tackled the blaze which broke out at its 1.1 million sq ft distribution centre in Grimethorpe, near Barnsley at around 10pm on Friday evening. It is understood to have spread to three floors of the five storey building.
Asos said on its Facebook page: "We understand there has been substantial damage but it's too early to ascertain the extent."
This is not the first time Asos has been impacted by a fire at its warehouse. Back in 2005 its distribution centre in Hemel Hempstead was damaged by explosions at the Buncefield fuel depot, which led to it closing for five weeks.
An Asos spokesman said there was no indication of when the site would reopen at present.