Asos is sharpening its UK prices to attract young, hard-hit shoppers.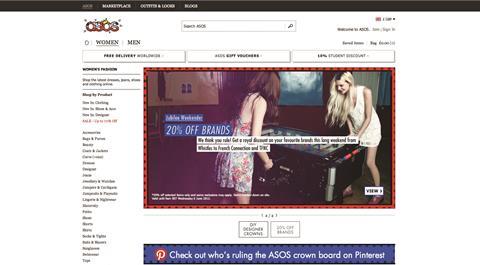 Chief executive Nick Robertson said of the UK market: "We've adjusted some of the prices. For our twenty-something customer, it's important that those £20, £25 and £28 price points are held. We're going to dig out some growth in the UK but it's definitely tougher."
Price has increasingly been a battleground in young fashion. Value giant Primark took a margin hit last year as it absorbed production cost increases in order to keep its prices low and Supergroup has vowed to slash its prices by as much as 30%.
Robertson added that Asos would plough more investment into its outlet operation, which has delivered strong growth in the tough climate.
Menswear is also to receive a cash injection following a 60% jump in sales over the year. Robertson said the "underserved" market was a big opportunity for Asos.
The online fashion giant's pre-tax profit, including exceptionals, rocketed 93% to £30m against sales of £495m in its year to March 31.
Asos' growth was driven by its soaring international business. Sales jumped 103% overseas compared with a 7% rise in the UK.
Robertson said the days of growing 100% per annum were behind the retailer, and that 30% to 40% was "more manageable".
The etailer is to invest £105m over the next three years, the majority on technology. It is also further pushing international growth by opening overseas offices.
Asos is to heighten its credentials as a "global fashion destination" by adding more international brands to its site.
Singer analyst Matthew McEachran said: "With so much scope to enhance and differentiate the proposition via a new reinvestment phase, we maintain our positive view on future sales and earnings potential."
Robertson said Asos was on track to achieve its goal of £1bn sales in five different markets by 2015.
Asos chairman Lord Alli is to stand down after 12 years at the business, once a replacement has been identified.