With the right technology, retailers can exploit their network of stores to gain the upper hand over pure-plays, says US store boss.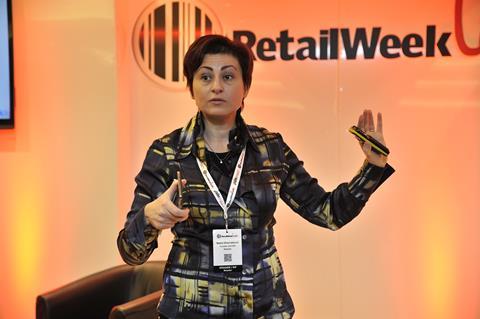 Using cutting-egde technology to make stores into mini warehouses gives bricks and mortar retailers the upper hand over pure-plays, according to Nadia Shouraboura, chief executive and founder of high-tech digitally enabled US store Hointer.
Stores that can act as fulfilment centres will prosper in the future as their pure-play rivals struggle, Shouraboura told the audience at Retail Week Live.
"The problem with online stores is they don't have a phenomenal network of stores. [Physical stores can act as] micro-warehouses that connect the store into the fulfilment model. It allows it to become much more powerful, with the ability to ship and fulfil online, and service items to customers at home as well as buy in store," she said.
In Hointer's stores, e-tags are fixed to each garment on display. When a customer uses their mobile device to read it, they can access more information about the product, read customer reviews, engage with social media, and send the item to fitting room. The item then arrives in the fitting room thanks to a robotic backend. Customers can then either buy the item in store, or order it on their mobile device to arrive at their home.
Such cutting-egde technology is a massive benefit for bricks-and-mortar stores compared to pure-plays, Shouraboura claimed.
"Bricks-and-mortar stores have a lot more advantage over Amazon," she said. "Amazon has to ship and pay – the power of stores is they don't have transportation costs for vast percentage of products. The cost advantage remains in favour of bricks-and-mortar stores."
Shouraboura added that online fulfilment is "more expensive than fulfilment from a network of stores." Therefore, she said, "I don't think the online guys can win."
By using technology in-store, Hointer also benefits from lower costs. "Our stores have very small square footage and employee labour is almost non-existent. We can run a store with one person," she said.
Benefits of e-tags in bricks-and-mortar stores
Acording to Shouraboura, e-tags give consumers and store staff the ability to access price information and connect to social media. "It's very simple, practical and can be installed in half a day – it gives you a lot of connection between your physical store and the digital world," she said.
It also benefits store staff by giving them "the same power as a customer to look at the item and help them shop".