Etailer Ocado aims to transform itself from a supermarket to a hypermarket with the launch of specialist non-food websites.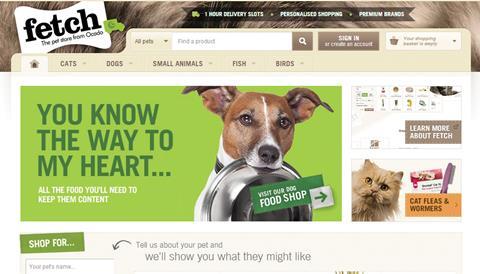 Ocado is to launch the first of a tranche of specialist non-food websites, a transactional pet website named Fetch, next month, Retail Week can reveal.
Trading from Fetch.co.uk, it will be the first time Ocado has launched a separate website to its main grocery site.
Fetch will trade under the strapline 'the pet store from Ocado'.
Led by non-food director James Matthews, the etailer has begun internal testing of the site that will extend the existing range of pet food, toys and accessories sold on Ocado.com.
Ocado has hired qualified staff to provide veterinary information online to Fetch customers.
Fetch forms part of Ocado's strategy to transform itself "from a supermarket to a hypermarket". The etailer is in the process of increasing the number of non-food products it sells on its main site before becoming a specialist in certain categories using standalone websites, dubbed "destination stores".
Fetch will be followed by dedicated baby, health and beauty, toys, homewares and kitchen and home and garden sites, pitching Ocado into battle with specialists including partner Morrisons' Kiddicare business and Boots, as well as generalists including Amazon.
The number of SKUs per site will initially be equivalent to a large high street specialist store before a range is developed that will replicate an out-of-town warehouse. Fetch will launch with 5,000 SKUs.
While Fetch is separate to Ocado's main site, customers can choose to have their Fetch goods delivered with their online grocery order. The two sites will have separate baskets.
Matthews told Retail Week: "Online pet retail is growing quickly and our range will rival that of a specialist independent or veterinary surgery. We are moving from serving people for their food shop to be a flagship for a product category."