Comet's future hangs in the balance as crunch talks between administrator Deloitte and potential white knight Clive Coombes commence today.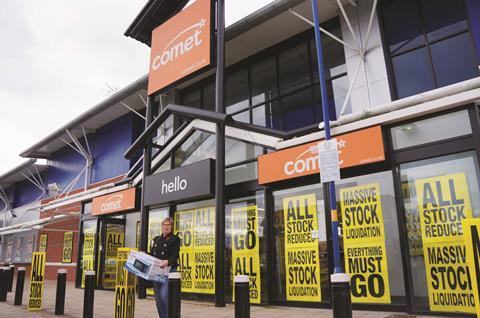 However, sources deemed it "highly unlikely" that Coombes will thrash out a deal for the majority of the electricals specialist's assets, and Comet looks likely to disappear as a bricks-and-mortar retailer after 80 years.
The remaining 195 stores are due to close by December 18 at the latest, just a week before Christmas, putting 5,000 staff out of work.
The situation mirrors that of Woolworths, which crashed into administration this week in 2008.
Coombes said: "There's a lot of negotiations to go and a lot of information we have to receive. We are hopeful we can take as many stores as possible."
But sources believed his efforts were doomed.
Comet's distribution centre in Harlow is to close today, meaning any potential deal will be further hindered by a lack of infrastructure.
One source said: "Without distribution, you can't trade it."
Comet's website and brand are likely to be sold but will be valued only at about £1m, a stark illustration of how the retailer has fallen – as recently as 2007 it made an operating profit of £46m. Appliances Online owner DRL and Shop Direct are thought to be vying to trade Comet as an online business.
DRL chief executive John Roberts believed it was very unlikely any buyer for the entire business would be found with the "funds credibility and required infrastructure to continue the brand".
He said: "The home delivery network required, TUPE issues and supplier support with associated credit insurance are only three of the huge obstacles to overcome if the business is to be operated on a slimmed down basis."
DRL expects a decision about a sale of Comet's website within the next seven to 10 days.
Southampton-based entrepreneur Coombes said his vision is to rebuild Comet with an emphasis on service, launch an own-brand line and lengthen warranties to reassure shoppers about their purchases.
TK Maxx, Poundstretcher and Dixons are all expected to be interested in buying Comet shops.