John Lewis has been inspiring retailers over the last 150 years. As it celebrates its landmark birthday, Retail Week examines how it has helped shape retail.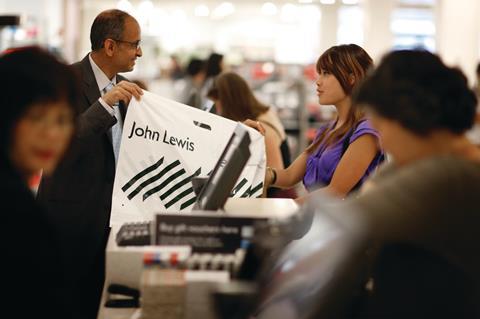 1. Staff incentivisation and Ownership structure
John Lewis's unique ownership structure, whereby its employees – or partners – own the business, is admired by many, including those in government. Politicians of all hues have extolled the virtues of its model and called for it to be emulated wherever possible, from schools to care services.
John Lewis has been brought in to advise the public sector on how to adopt its model as part of Prime Minister David Cameron's 'Big Society' ambitions.
The John Lewis Partnership model is admired because it is thought to incentivise staff and lead to higher productivity and success.
The structure is thought to reduce staff turnover and absenteeism and improve service across the business.
The other big retailer with which John Lewis has similarities, the Co-operative Group, has proven that the mutual model can have flaws, especially in corporate governance.
However, the John Lewis Partnership seems to have got the right mix of a board compiled of elected members and committed staff who together have made the right decisions and embraced change to enable the retailer to thrive.
Others have tried to emulate its model – the entrepreneur owners of bookshop Blackwell's and home entertainment retailer Richer Sounds plan to hand over their businesses to their staff.
Sports Direct has also followed John Lewis to some degree by offering generous bonuses to staff to boost service and encourage loyalty.
2. Advertising
John Lewis has become one of retail's most effective advertisers, displaying uncanny knack for making shoppers cry and buy.
While it works to get its brand pitched just right all year, it is at0 Christmas that the retailer's advertising truly comes into its own.
Although a relative late-comer to festive TV ads – it launched its first in 2007 – for some, the debut of John Lewis's ad signals the start of the Christmas season.
From the impatient young boy desperate to give his Christmas gift to his parents, to last year's animated epic following the friendship of 'The Bear and the Hare', John Lewis' tear-jerkers are not just the most talked-about festive campaigns, but stimulate the biggest emotional response with viewers.
Its ads don't focus on flogging dresses or TVs but on building emotional connection – and it has worked, leading to soaring sales every Christmas. It is an approach that has led to many brands across the spectrum vying to emulate its impactful campaigns.
Its ads have become big events, as evidenced by the movie-style premiere staged for 'The Bear and Hare' last year when an extended two-minute version aired over an entire commercial break during The X Factor.
The popularity of the campaign even led to the merchandise that John Lewis created around the advert, such as alarm clocks and cuddly toys, selling out within three weeks of the ad's screening.
3. Trust and customer loyalty
John Lewis is not only the most trusted UK retailer, it is the country's most trusted brand according to a study by analysts Nunwood. That trust has translated into customer loyalty.
Its long history and exemplary service clearly help, but it is the department store's perceived reliability among consumers that truly drives that trust. Plus, its long-standing price guarantee means customers often don't even attempt to compare John Lewis's prices and shop safely in the knowledge they are getting the best deal.
Its position as the brand that shoppers can trust has helped it thrive through good times and bad – in recent times, when consumers have thought that little bit longer about where to spend, John Lewis has remained high on their list.
4. Customer service
John Lewis has become the nation's favourite retailer partly because of exemplary customer service.
The partnership was built on the ethos of customer satisfaction being key and staff frequently go the extra mile to ensure shoppers leave happy. Customers are even advised to visit other retailers if the product they are looking for is not in stock.
John Lewis's ownership structure undoubtedly encourages good service, but extensive training is given to staff who are empowered to make on-the-spot customer service decisions themselves.
Service has also extended into John Lewis's online business – not only is its website user-friendly but it provides shoppers with the names and telephone numbers of its customer service manager and head of online selling to call if there is a problem.
It is no surprise that John Lewis has won the Best Customer Service accolade at the Verdict Retail Customer Satisfaction Awards for the past two years.
John Lewis's ethos of doing anything to satisfy the customer has been adopted by other retailers – such as Ao.com – who understand that service often drives customer loyalty.
5. Price philosophy
Since 1925 John Lewis has operated under John Spedan Lewis's 'Never knowingly undersold' philosophy, which takes price concerns out of the equation.
Rather than price, shoppers can concentrate on other attributes such as service, range and quality of products to make purchasing decisions.
The pledge is backed up by teams of price-checkers, who tour stores to ensure John Lewis is not undercut. However, 'Never knowingly undersold' is about more than pricing – it aims to communicate a quality message as well.
Many retailers, most notably the grocers, have followed John Lewis's lead of adopting price matching to ensure that price is not the main driver of
shopping.
6. Omnichannel approach
John Lewis may be steeped in 150 years of history but that hasn't prevented it from embracing new technology and practices.
The retailer was an early adopter of ecommerce, launching online in 2000 and creating a blueprint that many retailers have followed. Last year it took more than £1bn online.
It's not just about ecommerce, either. John Lewis has become a multichannel – or as it prefers to describe it, omnichannel – leader as it has evolved its offer.
Click-and-collect is the biggest growth area in retail and John Lewis was one of the first to identify its potential. The retailer launched the service in 2009 and now more than a third of online orders are collected in John Lewis and Waitrose shops.
Last year it joined the Collect+ delivery network, allowing customers to pick up orders in more than 4,500 local stores.
John Lewis is determined to stay ahead of the curve and has set the ambitious target of 40% of sales online by 2020. It is investing to make this a reality – in the past year it has injected cash into an easier-to-use website, equipped partners with transactional tablets and tied up with Google to map the inside of its flagship Oxford Street store.
It has also launched start-up incubator JLab to help it tap into innovative ideas from smaller technology companies.
John Lewis at 150: The history of the department store
1

2

3

4

Currently reading

John Lewis at 150: Six ways John Lewis changed the face of retail