John Lewis sales jumped 18.2% to £70.8m in its week to June 7 as the mixed weather helped drive shoppers to its department stores.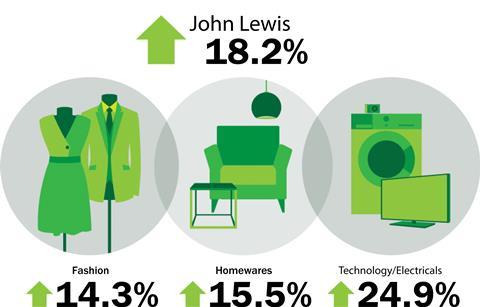 John Lewis director, retail operations development Simon Russell said: "The weather was in our favour, with occasional rain driving footfall into branches while the sun stimulated strong seasonal performances."
Online sales grew by 31% while shops recorded a 13.6% rise, what Russell said was one of its best increases this year.
It was the John Lewis 'at home' shops that dominated the top performers with Croydon, Poole and Tamworth all around 40% up.
Electrical and home technology was the top performing division with sales up 24.9%, driven by white goods, cooling, beverage makers and tablets. Television sales also grew sharply ahead of the World Cup.
Fashion sales rose 14.3% driven by occasionwear as the wedding season got in full swing. Formalwear was the stand out performance in menswear while hats and handbags were strong in women's accessories.
Home products were up 15.5% over a week that was good for upholstery and beds.
John Lewis also opened its first airport store at Heathrow Terminal 2 over the week.
Russell said: "Takings were very strong in the first few days and comfortably ahead of our target. The 150-year celebration products were proving very popular with staff and passengers along with 'British' themed gifting and fashion products. We even sold four teapots on the first day of trade."
Meanwhile, at sister grocer Waitrose sales advanced 4.6%, excluding petrol, to £123.5m as people snapped up food for barbecues.
Sales of meat increased by 20% on Sunday with 29% more sausages sold and 91% more speciality barbecue meat ranges.
Waitrose buyers predict this week will be one of the biggest ever for barbecue meat sales if the warm weather continues, with many people choosing an outside gathering before watching England's first World Cup match on Saturday.
The grocer is also witnessing other hot weather sales trends including sushi and salad sales rising 15% and ice cream, which sold 52% more on Sunday than this time last year.
Ahead of England's first World Cup match against Italy, Waitrose said that sales of England flags and mugs are starting to build, as well as customers stocking up on easy food such as frozen pizzas, which are 30% up.
To celebrate the host country, Waitrose is launching a range of five new Brazilian wines.
With Father's Day this Sunday many people are choosing a bottle of spirits as a treat for Dad. Top sellers include imported whisky, which was up by 50% last week, brandy, up by 46%, and cognac, which soared 73%.