Department store John Lewis's clothing sales plunged 6.9% last week as the warm weather put people off buying autumn stock.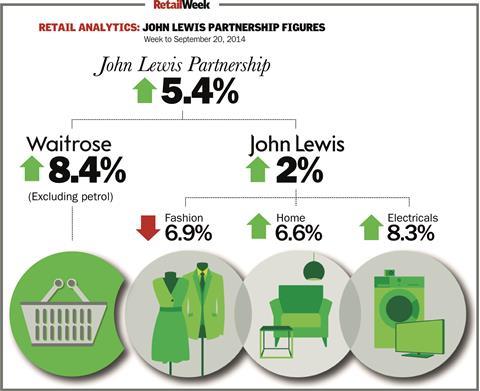 Despite the fall in fashion sales, total revenue edged up 2% to £74.2m in the week to September 20.
John Lewis director of retail services Barry Matheson said: "With the recent warm weather and temperatures up to 25oC customers were not in the mood just yet for buying cold weather products and this was reflected across all assortments."
However, there were some bright spots in nursery, which was up 16%, and beauty, up 5%.
Home sales advanced 6.6% with a good performance from big-ticket sales. Beds sales jumping 20%, fitted furniture surged 59% and upholstery up 57%.
Electricals and home technology sales grew 8.3% helped by communication technology sales to students going back to university.
Online trade was "softer than of late", according to Matheson but sales still grew 13% year on year over the week.
Meanwhile, the weather helped boost sales at John Lewis Partnership-owned Waitrose producing a 8.4% rise in sales to £120.8m, its highest growth rate in six months.
Waitrose personnel director Helen Hyde said: "Customers made the most of the Indian summer by enjoying alfresco dining. Sales of barbecue food soared, up 65%, while pre-packed fish sales increased by 21%. Ice cream sales increased by 29%."
However, seasonal fruits are starting to become flavor of the month with bramley apples surging 500% over the week as customers baked comforting pies and crumbles.
Waitrose is celebrating 'Organic Month' which led to organic tomatoes up 21.2%, organic cucumbers up 27.5% and organic romano peppers rising 35%.