Hark back to June 2016 and Sports Direct founder Mike Ashley was hauled before a parliamentary hearing about the working conditions at the retailer's Shirebrook warehouse.
After months of refusals to attend, Ashley made an eleventh-hour U-turn and was grilled by 12 MPs, giving an impassioned testimony with a distinct rabbit-in-headlights look on his face.
What a difference two years make. Far from being dragged before MPs reluctantly, Ashley muscled his way from 15 minutes as part of a four-person panel to a full hour solo in front of the Housing, Communities and Local Government Committee to discuss "high streets and town centres in 2030".
Ashley's bombast as a spokesperson for the high street – and MPs' willingness to listen to his views for over an hour – is a testament to the landgrab he has made for bricks and mortar in recent years.
The billionaire has amassed an almost schizophrenic mix of stakes and ownerships of retail businesses and brands, ranging from upmarket Flannels and Agent Provocateur, through to entertainment retailer Game and his most recent acquisitions, House of Fraser and Evans Cycles.
Saviour of the high street?
But what is Ashley's master plan for his growing stable of retail interests?
One City analyst is sceptical as to whether Ashley is in a position to revive the high street until he provides a steer on what his overarching strategy is.
"How can you back him on Sports Direct, Evans Cycles or House of Fraser, never mind the high street, when you have a complete vacuum in information?" he asks.
"If he wanted to stimulate the Sports Direct share price, it would be infinitely more helpful to just get 10 analysts in the room and talk to them."
Another industry strategist concurs that Ashley's attempted rebrand as the saviour of the high street is, at best, an unexpected turn.
"You get the stage in a person's life when they have money and power and it becomes all about legacy," she suggests.
"For Ashley, this inquiry is probably a mix of calculated repositioning and genuine integrity to make a difference. But it just hasn't seemed like he's cared [about the fate of the high street] until now, so if it's genuine it's quite the transformation."
Gaining respect
Whether motivated by altruism or personal PR, there are few retail operators who are better placed to speak about the troubles facing the high street than Ashley.
The breadth of retail operations he controls varies greatly in terms of size, sector and distress levels, giving him a unique insight into how businesses ranging from luxury to budget are performing on the high street.
While his tactics for "saving" businesses like House of Fraser and Evans Cycles are controversial, one retail executive argues that he is tackling problems facing the industry that many other operators refuse to touch.
"I've thought a lot about why British retail is in so much trouble and it's not because of Mike Ashley," he says.
"Asset stripping and overleveraging in retail all happened 10 to 15 years ago, and the fact that Ashley is in a position to re-engineer these things and has access to capital doesn't make him unique.
"If his intention is to run them as a retailer then I think he could pull it off. For all the hard time everyone gives him, he's run businesses for a long time that actually make money. The fear is that he's getting scraps off the table and seeing how much he can pick off the bone."
The industry strategist concurs that, despite his public persona, Ashley has gained respect in the sector for his skills running a retailer.
"He doesn't have the most polished reputation but a lot of people who have been in retail a long time are really impressed by his abilities as an operator," she says.
"He is focused on profit and intuitively runs his businesses really well; everything is optimised."
"There is not a lot of give-and-take with landlords – he is very much take, take, take"

Senior property source
Assuming that his intentions are pure and Ashley genuinely wants to combine his eclectic war chest of businesses into a high street force to be reckoned with, how will he make that ambition a reality?
One senior property source believes one of his foremost motivations is to drive down what he views as extortionate rents by cherrypicking and taking ownership of desirable property across the UK's high streets.
"There is definitely a property play involved in his thinking. He is taking as many freehold properties as he can and leveraging that position with landlords," he says.
"A lot of what you see going on with House of Fraser is purely Ashley leveraging that business and its position on high streets and in shopping centres to try and reduce rents. There is not a lot of give-and-take with landlords – he is very much take, take, take."
Maximum opportunities
Ashley's recent spat with shopping centre operator Intu shows that he is not afraid to throw his weight around when it comes to getting what he wants from retail landlords.
But speaking to MPs yesterday, Ashley insisted he was not a villain "sitting in [his] office stroking a white cat" and it absolutely did not benefit him to close stores.
Nevertheless, while he said the "vast majority of landlords want to work something out", the need to change how rents are determined, such as giving landlords a percentage of annual revenues rather than a fixed fee, was needed.
One industry strategist argues Ashley is amassing a tiered portfolio of retailers to maximise pricing opportunities without sacrificing margin or brand equity.
"His current portfolio gives him the ability to take one garment and sell it at all the different price points that it would go through in a clearance process across all the fascias he owns," she says.
"He's got Flannels where he can get full price for a product, which can then be moved to House of Fraser to discount and then again to Sports Direct for clearance.
"Most brands have only got TK Maxx at that point, so it is interesting that he has the ability to manage the sale of a product at every opportunity and hide it from the previous brand's shoppers as it floats down different price points.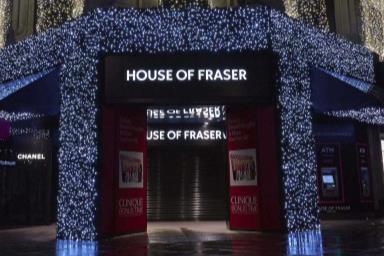 "Clearing it means he can get a lot more money than selling it to a clearance house and it means he's got control of margins all the way through."
It is a theory that tallies with what Ashley told MPs. He said the group's luxury fascia Flannels was performing strongly because "teenagers today wear their wealth" and that "one of the reasons House of Fraser failed is because it didn't elevate itself".
However, he fundamentally believes the department store model is still right for today's consumers – there just needs to be a change in how they are laid out.
He said as well as bringing in desirable retailers to form shop-in-shops, department stores should focus on entertainment – giving an indication as to how House of Fraser could evolve under his ownership.
"Department stores have to evolve, it's not about a sea of clothing any more. Why wouldn't you put on the top floor of a department store a free gaming area? The top floor was losing money already, so we're not taking anything anyway. All of a sudden you're creating a place where people want to go," he said.
Far from having his hands full with his current suite of acquisitions, Ashley also fuelled the fire of speculation about his interest in Debenhams, a business in which he already holds a sizeable stake.
Ashley said the two department store chains "should have [worked together] years ago" and the reason they had not was because of "separate management and separate egos".
"Why on earth House of Fraser and Debenhams don't do more together now, I do not know." Perhaps, under Ashley's closely guarded grand plan, if there is one, they soon will.
Whatever his designs on his retail portfolio and its place on the high street, Ashley is holding an increasingly powerful number of cards very close to his chest.