Debenhams is to launch online-only product categories as part of new chief executive Michael Sharp's strategy to transform it into a "leading international, multi­channel retailer".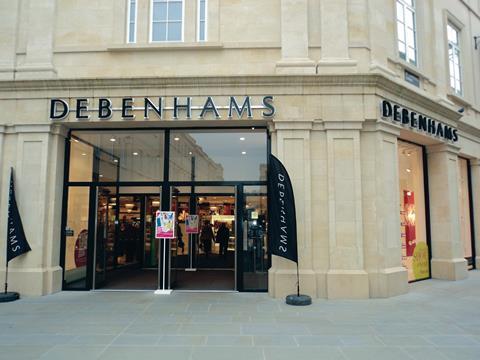 Sharp said the retailer will start selling lighting and mobile phones among other categories as it seeks to widen its online offer. It also launched clothing brand Lands' End solely online.
Sharp said: "There are no restrictions to space on the website. We will devote space to higher-margin products in stores but we can sell a wider selection online."
In its year to September 3 online sales, including concessions, soared 73.8% to £180.4m. Sharp predicts that online sales will grow to £500m annually in five years.
As part of its multichannel strategy, Debenhams has also launched a catalogue for its home offer this week encouraging customers to buy online. To reflect the website's increased popularity, the retailer will open smaller-sized UK stores.
The department store group, which aims to increase its portfolio from 163 to 240 UK stores, has signed for nine stores to open in the next three years. The average size of the yet-to-open stores is 48,000 sq ft, substantially smaller than its present average of 75,000 sq ft.
HSBC analyst Paul Rossington expects the new stores' focus on fast-moving, higher-margin categories will aid profit growth. He said: "By focusing on the faster-moving health and beauty, fashion and accessories at store level, and consolidating a higher proportion of slow-moving lines centrally for sale online, we see scope to reduce inventory levels and markdown, and achieve higher overall EBIT margins."
Debenhams is installing new kiosks on every floor of its stores, which will increase the range of products available in its smaller stores by five times.
The retailer is to expand its international presence as part of Sharp's plan. It will double its franchise stores to 130 by 2015 and grow its online presence. It now delivers to seven countries worldwide, and this will grow to 39 by Christmas and 67 by April next year.
Sharp, who replaced Rob Templeman as chief executive last month, said the next stage is to develop country-specific websites, with Republic of Ireland the first site in development and a German site, which will launch in spring next year. The retailer is also set to complete the revamp of its core stores with 45, including its Oxford Street flagship, carried out in the next two years.
Debenhams finance director Chris Woodhouse is standing down from his role and will leave the business next January. He will be replaced by Northern Foods group finance director Simon Herrick.
Debenhams figures
Full-year figures for the 53 weeks to September 3
Group sales (including concessions) Up 4.5% to £2.7bn
Pre-tax profit Up 10% to £166m
Like-for-like sales (excluding VAT) Flat
Net debt Cut by £133m to £384m
International franchise sales Up 16.5% to £77m
Online sales Up 73.8% to £180m