John Lewis sales dip 0.4% in week ending November 7
Milder tempeartures hit sales of fashion ranges
Waitrose sales rise 5.4% as Pick Your Own Offers scheme nears 1m members
John Lewis suffered a dip in sales last week despite the release of its hotly-anticipated Man on the Moon Christmas advert.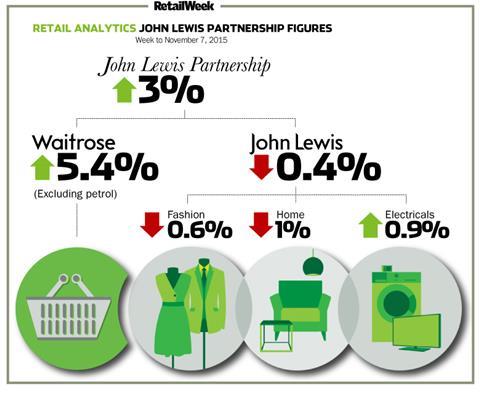 The department store group said sales were down 0.4% to £95.34m in the week ending November 7, despite the launch of the heartwarming ad on TV, online and on social media.
But John Lewis insisted it is "well set to build momentum" off the back of the advert and the launch of its Christmas gifting lines in the coming weeks.
The retailer said milder temperatures drove fashion sales down 0.6% as cold weather and outerwear lines were "challenged" against last year's comparatives, although nightwear and menswear continued their "strong" runs.
Homewares also reported a 1% drop, with textiles and carpet sales both behind on the year. But gift collections and the new games assortment both proved popular ahead of Christmas, while John Lewis' lighting category enjoyed its best week of the half-year to date as the darker nights draw in.
Electricals and home technology reported a 0.9% increase in sales during the week, driven by strong performance in the large electricals category, including good sales of tumble dryers.
Waitrose sales rise
John Lewis' sister retailer Waitrose reported a 5.4% spike in sales excluding petrol during the same period as its Pick Your Own Offers scheme continued to gain traction.
The upmarket grocer said almost 1m customers had now signed up to the initiative, which allows shoppers to select 10 products they want to save 20% on every time they visit Waitrose.
The grocer added that the 'Nigella effect' drove sales up after celebrity chef Nigella Lawson's new TV show hit screens across the UK.
Her avocado on toast recipe gained particular interest among shoppers as sales of the fruit surged 30% during the week.
Waitrose echoed the words of John Lewis, adding that unseasonably warm temperatures had impacted sales, with salad and ice cream both up 7%.
But that didn't stop shoppers stocking up for the festive season as boxes of Christmas cards enjoyed a 14% jump in sales compared to the same week last year, while tree decorations were up 18%. Sales of gift crates for assembling gift boxes and hampers rocketed 230%.
Christmas confectionary sales grew 13% and mince pies reported a 24% spike, driven by a half-price promotion.
Alcohol also performed strongly as wine sales increased 18% and gin experienced a 54% uplift, driven by a 10% off all gin offer. Vodka and rum sales grew 20% and 28% respectively.