Weekly sales reach £110.4m as Christmas trading kicks off
Home category is star performer
Fashion sales held back by mild weather
Sales at John Lewis department stores broke through the £100m barrier last week, boosted by homewares, as peak trading got under way.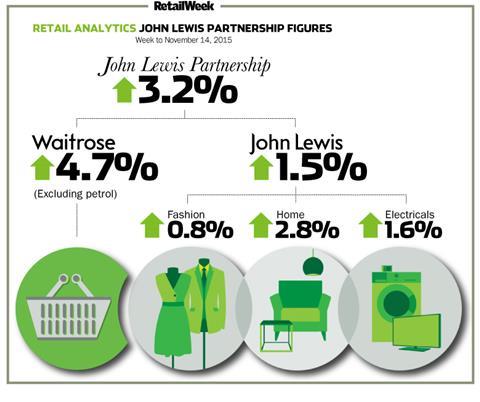 John Lewis reported revenues up 1.5% year on year to £110.4m in the week to November 14. Week on week, sales advanced 15.8%.
The home category was the star performer, up 2.8%, "as customers prepared their houses to receive guests" over the festive period, John Lewis commercial director Paula Nickolds said. Carpets, blinds and curtains all sold well.
Sales of electricals and home technology advanced 1.6%, helped by the launch of Microsoft Surface Pro 4 and the iPad Pro.
However fashion sales were held back as mild weather put shoppers off purchasing seasonal lines. They inched up 0.8%.
Online sales rose 16.8% and the retailer said two thirds of its customers now visit its website and a store to make a purchase.
Nickolds said: "The countdown to Christmas has begun. Customers are now buying gifts and products to prepare their home for the season ahead.
"We have sourced some fantastic ranges, our shops are stocked and partners are ready to help everyone have a great Christmas."
At John Lewis Partnership stablemate Waitrose, weekly sales rose 4.7% to £129.9m.
The grocer said performance was helped by a direct marketing campaign and a promotion that contributed to a rise in online sales of 26.1%.
Seasonal lines such as Christmas nibbles and advent calendars were among the products that sold well over the week.