John Lewis sales were buoyed by online revenue as customers grabbed the last Black Friday bargains and looked ahead to Christmas.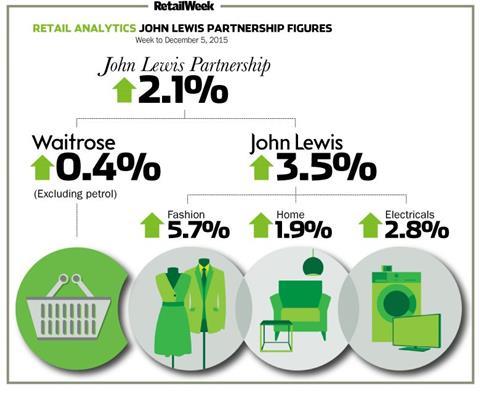 In the week ending December 5 sales were up 3.5% year on year to £165.6m as online revenue jumped 13.6%. Sales fell 11.8% week on week following John Lewis' biggest ever sales week over Black Friday in the prior week.
Over Cyber Monday John Lewis' distribution team delivered 22.4% more units year on year after the retailer invested in infrastructure and efficiency over the last 12 months.
John Lewis' director of selling and new formats Maggie Porteous said: "Coming out of Black Friday it's been another busy week for our distribution team and our branches are now seeing shoppers turn their attention to purchasing seasonal decorations and gifts."
Sector breakdown
Fashion led the way as sales rose 5.7% compared with 2014, with menswear sales up 7.3%, driven primarily by a 10% rise in outwear sales despite the mild weather. Handbag and accessories sales also increased 8.5%.
Electrical and home technology sales were up 2.8% as customers benefitted from John Lewis' Black Friday price-matching, which continued into Sunday November 29. Wearable tech performed particularly well and the Apple watch had its best week of sales with the retailer, jumping 70.8%.
Small electrical items were up 3.8% driven by Nutribullet sales soaring 121%.
Home sales increased 1.9% as shoppers started festive shopping in earnest. Christmas decorations rose 6.6% and Christmas tree sales shot up 22% against the previous year.