UK retail like-for-likes fell 0.9%
Total sales were flat year on year
Clothing recorded its worst decline in sales since September 2014 for second consecutive month
Retail like-for-likes fell in April overall as non-food sales recorded their weakest growth since 2012, driven by declining fashion sales.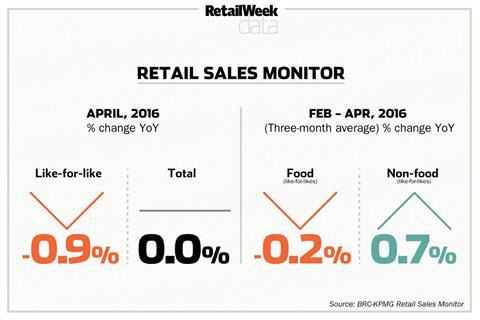 Total industry sales were flat year on year in the four weeks to April 2, according to the BRC-KPMG Retail Sales Monitor, while sales edged up 0.3% on a three-month basis, below the 12-month average of 1.5%.
Food sales were up last month for the first time this year thanks to late Easter sales but were down 0.2% on a three-month basis. On a 12-month average, food sales edged up 0.1%.
IGD chief executive Joanne Denney-Finch said: "The varying date of Easter makes comparison difficult at this time of year, but a clearer picture emerges when March and April grocery sales are combined."
Non-food sales growth slowed in April, when sales rose 2.5% year on year. On a three-month basis, non-food sales increased 0.7%, marking the lowest performance in the sector since December 2012.
Non-food sales were driven by home accessories and furniture sales but offset by a steep decline in fashion sales, which recorded their biggest fall since September 2014 for the second consecutive month.
Mixed picture
Footwear was the worst-performing sales category overall, while stationery, household appliances and health and beauty all reported like-for-like and total sales growth.
KPMG head of retail David McCorquodale said: "Overall, retail sales slowed during April with temperatures well below the average for the time of year.
"Looking at the three months to April, non-food like-for-like growth was particularly weak, especially for fashion and footwear, as the cooler weather dampened the launch of spring and summer ranges."
BRC chief executive Helen Dickinson added: "April saw the second month of flat sales for UK retailers with positive food sales offset by record declines in fashion.
"Overall, flat total sales mask a very mixed picture; some retailers benefiting from the healthy housing market, while others are evidently more susceptible to the effects of lower consumer confidence and a higher proportion of disposable income going into leisure and entertainment."