UK retail like-for-likes dropped 0.7%
Total sales increased 1.4% on a three-month basis
Food sales declined 0.7% in the first quarter of the year
Retail like-for-likes declined 0.7% in March as rises in big-ticket purchases were offset by continued declines in food and fashion.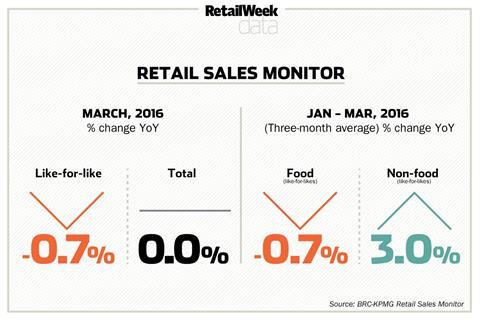 Total industry sales were flat in the five weeks to April 2, according to the BRC-KPMG Retail Sales Monitor.
Easter trading failed to buoy food sales, which dropped on a like-for-like basis last month. Over the wider quarter, total food sales dropped 0.7%.
IGD chief executive Joanne Denney-Finch said: "On the face of it these look like disappointing food and drink sales.
"However, it is difficult to make direct comparisons with last year, as Easter 2015 fell in April. Leaving aside the Easter distortions, the underlying sales trend remains relatively flat."
The grocery sector was not the only one to suffer like-for-like sales falls in March. Stationery, clothing, footwear, other non-food, home accessories and health and beauty also posted declining sales.
Furniture proved to be the strongest growth category again in March, but the BRC-KPMG said growth in the sector was "distorted" by the earlier four-day Easter weekend, when households traditionally shop for big-ticket items.
Household appliances, jewellery and watches, toys and baby equipment and house textiles also gained sales on a like-for-like basis.
That drove non-food sales growth of 3% during the first three months of 2016 compared to the same quarter of last year, despite clothing and footwear sales suffering their largest decline since September 2014.
Analyst reaction
BRC chief executive Helen Dickinson said the flat sales were "relatively disappointing" but highlighted the impact of the earlier Easter on fashion and grocery sales.
She added: "However, it was a bit of a mixed picture across the industry as a whole with big-ticket items continuing to do well and furniture being the main contributor of total sales growth."
KPMG's head of retail David McCorquodale said: "Earlier Easters are not always good for the fashion industry as consumers are put off purchases of lighter fashions and footwear in cooler temperatures and this was certainly the case this year.
"Looking ahead, retailers will be hoping for fewer April showers this month to entice spending on these newly launched ranges and to help alleviate the additional cost burden with the implementation of the national living wage."