From The World Cup to the royal wedding, John Lewis has taken a deep dive into the events that shaped shopping in 2018. 
The department store's sixth annual retail report 'How we shop, live and look' has been published.
Freak weather was a primary driver of spending habits during the year, as the Beast from the East had shoppers stocking up their winter wardrobes as late at March, while a summer heatwave and Love Island fever drove up sales on pool inflatables by 316% and the thong jumped 72%.
The Royal Wedding and England's rousing World Cup performance spurred shoppers' purchases, with sales of 60-inch TV sets up 249% year-on-year, occasion wear hats up 33% and Meghan Markle outfit at a Commonwealth reception drove up sales of yellow dresses 401%.
But as political and economic uncertainty rumbled on, how did John Lewis' shoppers' purchasing habits change, and what does it tell us about how and what we will be buying in 2019 and beyond?
Shifting motivations
In a year where swapping a plastic straw in your post-work G&T for a sustainable alternative became the norm, it's no surprise that shoppers were increasingly ethically motivated when deciding what to buy.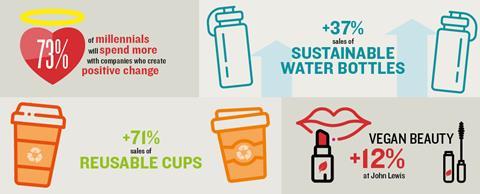 This trend was noted by John Lewis as developing throughout the year, starting with a rise in the sales of vegan products as shoppers kicked off the New Year with Veganuary.
Vegan beauty products were also in high demand during the year, up 12% at John Lewis overall in comparison with a 5% increase in sales across the wider market. The department store's best-selling vegan beauty product, Pai's rosehip oil, has experienced a phenomenal 467% growth in the year to date.
Sustainability was high on shoppers' priority lists. Sales of sustainable water bottles rose 37% and the number of brands stocked by the department store rose 85%. Reusable cup and flasks sales jumped 71% in the four months following the finale of Blue Planet 2, no doubt bolstered by subsequent initiatives from high street chains such as Pret to offer shoppers discounted hot beverages in they used a reusable cup.
Ethically motivated shopping is a trend that is likely to gain steam in the coming years, as John Lewis said 73% of millennials would "spend more with companies who create positive change".
Sleep tight
Investing in self-care continued to gain momentum in 2018 , as shoppers showed they were prepared to spend to guarantee a good night's sleep. John Lewis has pounced on this trend.
Luxury bedware items such as premium bed linen and silk pillowcases were up 11% and 13% respectively at the department store during the year, while one Hungarian goose feather topper registered a staggering 292% increase in sales.
This, combined with estimates that 20,000 working days in the UK per year are lost down to absenteeism caused by lack of sleep, spurred John Lewis to launch 'The Lying Down Club' in its Oxford Street branch. Shoppers browsed products across the department store retailer's tech, home and beauty ranges which catered to a good night's sleep alongside in-store activities such as massages.
Mobile matters

Mobile accounted for the majority of the department store's online sales and its mobile app was a primary driver.As debate in the retail sector rages on about the long-term value of the app, John Lewis has made a compelling case for why they are worth the investment and upkeep.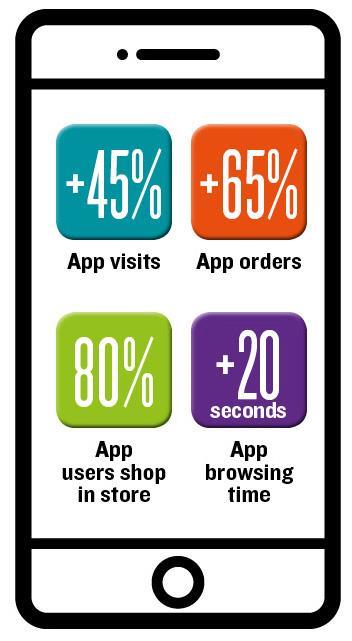 App visits were up 45% year-on-year, sales rose 56%, the amount of time spent on the app per visit increased an average of 20 seconds and the average amount spent per visit rose £7.
The app was also a driver of offline sales, with 12% of all visits to the app involving the use of a tool designed to be used in store, such as the Kitchen Drawer section, which stores digital versions of shoppers' paper receipts.
Of the retailer's app users, 80% also shop in John Lewis stores, while 82% are members of its loyalty scheme.
Trans-humanism
The smartphone may be the number one driver of John Lewis' online sales, but the retailer's resident futurologist John Vary predicts that the mobile device will be usurped in the coming years for more integrated and intuitive alternatives.

Smart contact lenses, which provide information to customers looking at shop windows or allow them to see how the jumper they're considering might look with an item they already own, are mooted by Vary, as is the possibility of shoppers sharing information ranging from their DNA to their heart rate to tailor products to them.
However, the nascent technology which Vary is confident will have the greatest impact on how shoppers purchase products soonest is voice, with Gartner estimating that 30% of web searches will be done without a screen in just two years.