The UK might be hotter than the Caribbean this summer but retail eyes are firmly set on Christmas when the cost-of-living crisis is set to bite. Data from our latest report suggests health and beauty will be the only sector to see volume growth.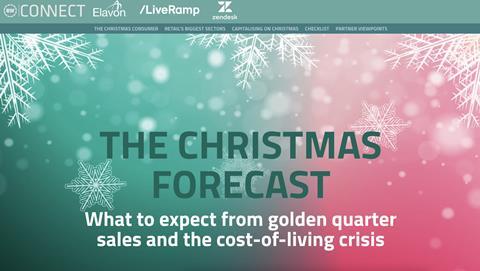 The Christmas Forecast reveals exclusive data from Retail Economics on how retail sales will fare this Christmas with detailed sector breakdowns.
The data shows retail sales by volume will be down year on year in the final quarter of 2022. However, with inflation currently around 9%, the value of retail sales is predicted to rise.
Want to find out what this means for your sector?
Register to read your copy of The Christmas Forecast for free. You will discover:
Breakdowns on how key sectors will perform including food and grocery, homewares, electricals, fashion, toys and games, furniture and flooring, and DIY and gardening
How retailers such as the Co-op, Liberty London and Sosandar are preparing for Christmas
Analysis of the factors influencing consumer spending during peak trading