Loyalty programmes have had a bad press of late. More and more customers have come to see them as uneven exchanges of information.
They give away personal data about their spending habits and what do they get in return? At best, a few insubstantial rewards. At worst, a barrage of irrelevant and uninteresting emails. The result? Customers are hitting the spam filter and permanently closing lines of communication.
But it isn't just customers who are turning their backs on these programmes. Retailers are also becoming more sceptical. As they face ever-more price-competitive environments, many have come to view loyalty discounts as just another way to erode margin and give cash back to customers. With email opening rates at an all-time low, they see their carefully crafted messages getting increasingly lost in the ether.
Time to rethink loyalty for today
This perfect storm of consumer cynicism and retailer disillusion couldn't have come at a worse time. GDPR – and the heavy fines for data misuse – is now here. It makes identifying and collecting information about your customers ever-more challenging unless you have a loyalty programme in place.
But the benefits of loyalty go far further than simple GDPR compliance. The most effective programmes can truly join up your data on customer transactions, keep the lines of communication with customers open and give them a compelling reason to belong to – and shop with – your brand.
"It's time to ditch outdated concepts of lacklustre, points-based loyalty cards evolved out of store credit cards, which belong in the 1990s"
An effective loyalty programme might just be the key to survival in a world in which customers have taken control of their data, in which they have a near-infinite choice of retail options and in which they have Amazonian expectations of service levels – and price.
We need to entirely redefine what a loyalty proposition can be. It's time to ditch outdated concepts of lacklustre, points-based loyalty cards evolved out of store credit cards, which belong in the 1990s. Instead, welcome in the era of next-generation, mobile-enabled, digital loyalty programmes that put customers front and centre and are completely aligned with a retailer's purpose
To demonstrate just how powerful an effective loyalty programme can be, I want to shine a light on three characteristics of best-in-class, next-generation programmes from around the world. These schemes are completely changing how customers interact with retailers in an omnichannel world – and driving extraordinary success for the companies that provide them.
Move the needle
Many of the best-in-class 'loyalty' programmes do not really look and act like a traditional programme. Starbucks' mobile order and pay app is redefining loyalty.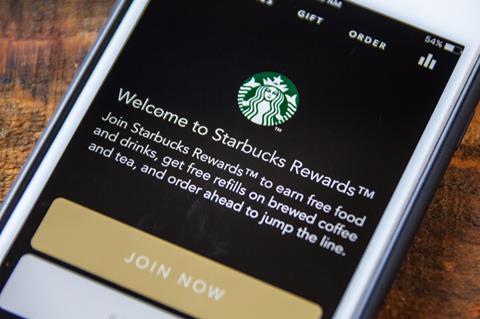 The app lets customers pre-order their coffee and pay for it using their smartphone – or even their smart watch – at home, in the office, or out and about. It means they not only get the convenience of avoiding any potential queues in store, they also get loyalty reward points for each purchase they make. It's cementing Starbucks as the place to go for innovative, fast, friction-free coffee buying.
What is less obvious, but equally important, are the extraordinary benefits to Starbucks and how it has unlocked a new trading model. The app has driven wave after wave of innovation throughout the business.
First, to manage the flow of additional orders from the app, in-store baristas needed a new, scalable way of planning their work. Next, Starbucks developed digital order management – essentially giving their baristas an air traffic control system for coffee orders via an iPad. Then, thanks to the massive success of mobile pay and go, they needed a way to avoid tailbacks in-store while customers waited for their drinks. So, they adapted the app to alert customers when their drinks are ready – and remove any need to queue. They've even started redesigning their equipment and store layout around this new breed of 'pickup only' customer.
All customers are not created equal
Retailers must have a very clear understanding of who their most valuable existing and potential customers are. Trying to design a one-size-fits-all proposition is unlikely to succeed.
British Airways recognises that its most-valuable customers are less interested in points, but of critical importance is status and convenience. Heathrow Terminal 5 first-class check-in and the Concorde Lounge are prime examples of BA's understanding of what will resonate with their high-value business travellers.
Data as the new oil
Loyalty programmes have always been about capturing customer data first and foremost. Today, the amount of data available about customers is truly staggering. By joining up the dots, you can uncover unprecedented insights into what your customers really want.
A new generation of mobile-device-enabled membership programmes bring unprecedented abilities to capture data and unlock insights into customers. This is one of the primary drivers of digital innovation for any business.
"With this vast dataset comes immense power – and the potential to change lives for the better"
The Walgreens Balance Rewards programme goes far beyond mere transactional data, capturing an extraordinary amount of information about the health and lifestyles of its millions of customers.
With this vast dataset comes immense power – and the potential to change lives for the better. What's more, as wearable technologies for monitoring blood pressure, heart rate and other wellness factors become ever-more pervasive, Walgreens is ideally positioned to capitalise on the coming explosion in customer health data.
The possibilities – from spotting unidentified medical conditions, to anticipating individual and family health needs, to embedding the company deeply in customers' wellness journeys – are immense.
What it means for you
Your loyalty programme should be at the epicentre of an irresistible, totally personalised customer-centric retail experience.
By unlocking a 'big idea' in terms of a value proposition, you can unleash a virtuous circle, combining ever-more personalised customer experiences with digitally enabled operations to generate vast, data-rich seams of actionable insights for the entire business.

Suzy Ross is director for strategic customer partnerships at Google Cloud